Where travel agents earn, learn and save!
Photo: Bevan Waite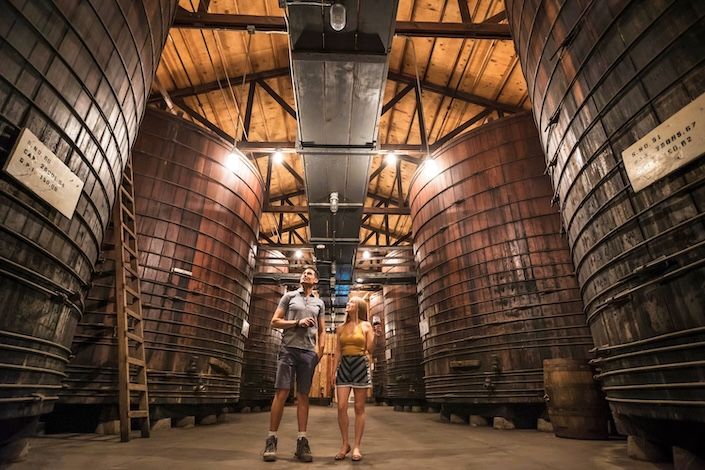 Expand your viticultural horizons with this trek that begins in San Diego County, traverses the Central Valley, and ends in the Sierra foothills.
Start: Escondido
End: Scott Harvey Wines
2 - 4 days, 9 stops, 616 miles
STOP 1 - Escondido
201 N Broadway, Escondido
California wine country nearly reaches the Mexican border in San Diego County, where the proud winemaking tradition is the state's oldest and dates to the 18th century. Just outside Escondido, acclaimed Hungry Hawk Vineyards & Winery grows 15 varietals on vineyards with spectacular views of the San Pasqual Valley. Rows of grapes stretch toward boulder-strewn hills in this beautiful valley, where you can also see animals from around the world in natural settings at San Diego Zoo Safari Park, less than 10 minutes from the winery. Or to discover Escondido's urban wine scene, try the Vesper Vineyards tasting room and the BK Cellars Urban Winery & Tasting Lounge.
STOP 2 - Temecula Valley
Head out for a spin along the Temecula Valley's DePortola Wine Trail to Robert Renzoni Vineyards, which lets you savor the flavors of Italy, thanks to its trattoria and acclaimed Montepulciano. An easy drive from both San Diego and Los Angeles, the Temecula Valley is Southern California's largest wine region. With more than 30 wineries, including some with bed and breakfasts and luxury hotels, as well as a growing reputation for outstanding varietals, the valley earned recognition as one Wine Enthusiast's 10 best wine travel destinations for 2019.
STOP 3 - Cucamonga Valley
10500 Civic Center Dr, Rancho Cucamonga
In the early 1900s, the Cucamonga Valley was one of California's most important wine regions. While most of its vineyards have given way to suburban development, the valley's wine tradition endures. The area is known for Zinfandel and warm weather varietals and earned designation as an official American Viticultural Area. At Rancho Cucamonga's Joseph Filippi Winery & Vineyards, you can take tours of this fifth-generation family operation, whose wine inspired the Grateful Dead song "Pride of Cucamonga." Or in Mira Loma, taste the Zinfandels and Rhône varietals at historic Galleano Winery, which opened in 1933.
STOP 4 - Tehachapi
115 S Robinson St, Tehachapi
Grapes sometimes grow where you least expect them and even many California oenophiles don't realize that there's quality winemaking in the high country of Tehachapi (elevation 4,193 feet). It's an area better known for its apple orchards but roughly halfway between the desert cities of the Antelope Valley and Bakersfield in the Central Valley, Triassic Vineyards is celebrated for its Zinfandel and Syrah. And in spring, the view of poppies blooming in the Cummings Valley is positively spectacular.
STOP 5 - Kingsburg
1401 Draper St, Kingsburg
Kingsburg wears its Swedish roots proudly. Its Swedish coffee pot–shaped water tower can be seen from the freeway, and downtown is lined with gabled Nordic architecture. Bakeries sell buttery pastries and Kady's Country Kitchen serves Swedish pancakes with lingonberry jam. This Central Valley town's Northern European heritage dates back to 1873, when two Swedes arrived at what was then only a rail stop. Believing the local soil was ripe for farming, they stayed on. Before long, their Swedish cousins and friends joined them, and by the early 20th century, 94 percent of Kingsburg's residents were of Swedish descent. Today you can shop for Swedish gifts—colorful wooden Dala horses, Swedish crackers and preserves—at Svensk Butik. In May or June, fill up on fresh berries at Berry Lady Farms. And of course, if you love raisins, you must pay a visit to the Sun-Maid raisin market (just look for the world's largest raisin box). Plus, with Rhône varietals produced from its foothills estate vineyard near Yosemite National Park, Ramos Torres Winery offers a surprising destination for wine lovers. With its rich woods and casual atmosphere, the tasting room is an appealing setting to discover winemaker and San Joaquin Valley native Oscar Ramos-Torres's wines, including Cabernet Sauvignons made with grapes from Lodi.
STOP 6 - Madera
Follow the Madera Wine Trail as it travels from the Central Valley and into the Sierra Nevada foothills. Considered one of the country's oldest wine regions, Madera traces its winemaking heritage back to the late 1800s when settlers from such countries as Armenia, France, and Italy brought their Old World traditions to the area. It's definitely a diverse region. Since 1946, Ficklin Vineyards, located off Highway 99 south of Madera, has produced celebrated ports in the Portuguese style, while Oakhurst's Idle Hour Winery is in the foothills only 14 miles from the south entrance to Yosemite National Park.
STOP 7 - Murphys
Murphys Creek Rd, Murphys
Like San Francisco, Murphys was one of California's richest boom towns, but this appealing Calaveras County town feels closer to Mark Twain's famous jumping frogs (celebrated yearly in neighboring Angels Camp) than Michelin stars and über-prestigious, wine tasting. Roughly halfway between Yosemite and Lake Tahoe, this Mother Lode town still has a richly historic look. Guided walking tours are conducted every Saturday at 10 a.m., starting in front of the Old Timers Museum on Main Street.
Yet with all these nods to history, it's not hard to see times have definitely changed. Stroll down Main Street to visit tasting rooms and restaurants featuring vintages from the more than two-dozen family-owned and -operated wineries in the region. Sip an espresso and taste baked-that-morning croissants at Aria Bakery, and look for artisan crafts at the farmers' market (Thursdays in summer). Visit the sprawling Ironstone Vineyards to sip wines or catch an outdoor concert with big-name stars like Sheryl Crow. Then relax at sophisticated V Restaurant, Bar & Bistro.
STOP 8 - Sutter Creek
71a Main St, Sutter Creek
The Sierra Foothills are full of towns whose fortunes rose and sometimes fell with their mineral output. The "Jewel of the Mother Lode," Sutter Creek was dedicated to gold and quartz mining for almost a century. Today, its town center makes for a charming pit stop, with a meal at Buffalo Chips best chased by homemade pie. Take the self-guided walking tour to see buildings that housed the local saloons, theaters, stores, and more.
SPOTLIGHT - Scott Harvey Wines
10861 Shenandoah Road, Plymouth
Walk through town and discover outstanding Amador County wines, including the Zinfandels at Scott Harvey Wines.
Latest Travel & Selling Tips