Where travel agents earn, learn and save!
Make lifelong memories at these family-favorite beaches in the Golden State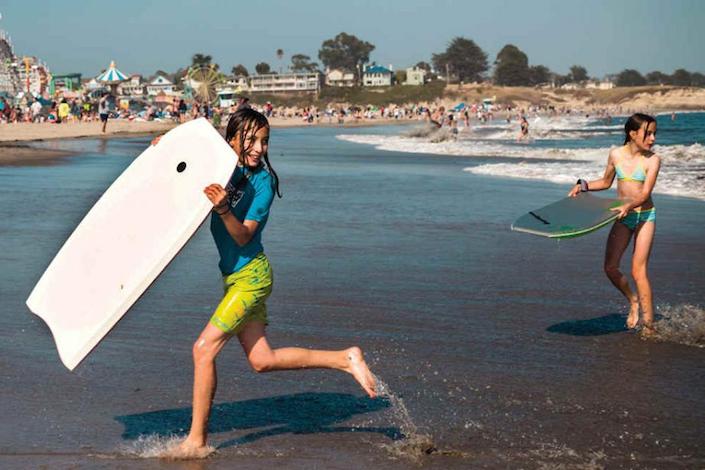 Photo: Photo: Tai Power Seeff
Sand, water, and kids—it's a natural combination for great family memories. With 840 miles of coastline, California offers a wealth of excellent options for family beach vacations. You could easily spend a full week building sandcastles, playing in the waves, or just sitting on the sand and watching tiny marine creatures swim in tide pools. Many of California's best family beaches are state parks as well, with their own campgrounds and other kid-friendly features that can help you create an affordable family beach vacation.
What Makes a Beach Family-Friendly?
The best family-friendly beaches in California possess a few key features: gentle waves, plenty of room to play, and access to amenities such as restrooms and perhaps a concession stand. While many California beaches are famous for surfing, some of those aren't always ideal for families, since they tend to have bigger, rougher waves—not always suitable for little kids.
At any Golden State beach, set up your family's home base near a lifeguard station so you can have extra eyes on the kids and see any relevant flags—some indicate safety conditions, and others communicate what kinds of activities are allowed on that part of the beach, like swimming, surfing, or beach games. Restrooms, showers, and concession stands tend to be located near a beach's main lifeguard station too.
Here are a dozen great family-friendly beaches in California, listed south to north, to get your vacation started:
Best Family Beaches in Southern California
Silver Strand State Beach, Coronado
The two-sided Silver Strand State Beach—located on San Diego's Coronado Island—is a crowd-pleaser because it features two distinct experiences: the surf waves of the Pacific Ocean on one side, and the calm waters of the San Diego Bay on the other. Kids can learn how to hang ten with Coronado Surfing Academy in the Pacific or just splash around in the bay, also known as Crown Cove. Afterward, everyone can enjoy a bonfire on the beach. (More: Silver Strand State Beach)
Family-friendly tip: During summer, rent beach chairs and umbrellas or grab a bite to eat at neighboring Loew's Coronado Bay Resort.
La Jolla Shores, San Diego
About 20 minutes north of downtown San Diego, La Jolla Shores offers both a wide beach and gentle waves. It's perfect for swimming and boogie boarding. The one-mile stretch of beach in La Jolla ups the ante, too, with s'mores-friendly firepits, restrooms, and an adjacent playground. This is also a prime spot for snorkeling or kayaking in the La Jolla Underwater Park, home to marine life such as colorful garibaldi and (harmless) leopard sharks. Make a day of it by visiting the nearby Birch Aquarium, or standing along the sea wall at The Children's Pool to watch a large community of seals lounge, bark, and tend to their cubs. (More: La Jolla)
Family-friendly tip: The La Jolla Shores parking lot fills up fast on weekends, so be ready to park on nearby streets. Or just plan to come before noon or arrive during late afternoon, then stay until sunset.
Moro Beach, Laguna Beach
Combine beach time with nature hikes at this beach within Crystal Cove State Park, which lies along both sides of Highway 1 in Laguna Beach. Start by parking in the Moro Beach lot for easy day-use of the beach: play in the sand and get out on the water for boogie boarding, SUP, and kayaking. Then, look at (but don't touch) anemones, sea stars, and hermit crabs among the tide-exposed reef of Crystal Cove State Marine Conservation Area. You can also walk the nature trails in the chaparral-clad coastal hills and lush Moro Canyon. (More: Crystal Cove State Park in Laguna Beach)
Family-friendly tip: You can camp at Moro Beach or enjoy more creature comforts by staying in one of the state park's Historic District cottages, which you can book up to seven months ahead of time.
Bolsa Chica State Beach, Huntington Beach
Huntington Beach lives up to its nickname Surf City USA as it has long been a hotbed for both surfing and surf culture. While you can watch expert surfers at the famous break at Huntington City Beach, near the pier, families and newbie surfers might prefer the mellower waves of three-mile-long Bolsa Chica State Beach, which also has basketball courts, 200 bonfire rings, snack bars, and a large RV campground. This is a great spot for fishing too, including the California grunions that can be caught bare-handed during full or new moons. (More: Huntington Beach)
Family-friendly tip: Check out the Bolsa Chica Ecological Reserve across the Pacific Coast Highway, which is home to four miles of trails and more than 200 bird species.
Santa Monica Beach, Santa Monica
Santa Monica Beach offers one-stop shopping for a family beach getaway. In addition to many nearby restaurants, it features 3.5 miles of wide beaches as well as Santa Monica's signature pier and the kid-friendly amusement park Pacific Park. Families will most enjoy the beach areas north of the pier and near the Annenberg Community Beach House. Here you'll find easy-access restrooms, a playground, and Perry's Café and Beach Rentals, where you can score chairs, umbrellas, and bicycles for the day. Save time for the Heal the Bay Aquarium, a free attraction that's home to about 100 species of fish and aquatic animals. (More: Santa Monica Pier & Beach)
Family-friendly tip: Download the Santa Monica app to secure an easy all-day parking spot at one of the eight lots along the beach.
Best Family Beaches in Central California
Harbor Cove Beach, Ventura
Locals call Harbor Cove Beach "Mother's Beach," and with good reason. The harbor's breakwaters shield the beach from big waves, so it's a nice place for kids to swim, paddle a kayak, or build sand castles. It's also across the street from Ventura Harbor Village, which includes restaurants, an ice cream parlor, and an arcade. You can also explore the Channel Islands National Park Visitor Center, where you can receive an easy introduction to this amazing national park. (More: Ventura County)
Family-friendly tip: Rent pedal boats at Ventura Harbor Village—some shaped like swans and dragons—to explore the Ventura waters. Daytime rentals are first-come, first-served, but you can book ahead for an evening ride.
Arroyo Burro Beach, Santa Barbara
Santa Barbara locals often call this beach, located 10 minutes from downtown, Hendry's Beach. Either way, it's known for gentle waves that make for safe swimming, fishing, and beginner-friendly surfing. Arroyo Burro also offers restrooms and is the only local beach to welcome dogs off leash. Make time to go above the beach to explore the 70-acre Douglas Family Preserve which has hiking trails, monarch butterflies (especially during late fall and winter), and big views. Be sure to keep an eye out for migrating whales in the distance. (More: Arroyo Burro Beach)
Family-friendly tip: Arroyo Burro Beach has a popular onsite restaurant—The Boathouse—but you can also easily bring a picnic lunch from nearby spots such as Pickles & Swiss.
Pismo Downtown Beach, Pismo Beach
Set up your crew near the Pismo Beach Pier in this San Luis Obispo County beach town.
The pier area has a soft sand beach, concession stands, a marine life–themed playground, and rentals of kayaks and SUP boards. It's also within walking distance of several of the town's mellow, family-friendly hotels. For a truly unique beach experience, spend a day at Oceano Dunes, a couple miles south of the pier, which is one of the few beaches in California to allow ATVs and horseback rides. (More: Beaches in San Luis Obispo County)
Family-friendly tip: Don't miss two classic Pismo Beach culinary options, both located near the pier: The Splash Café, home of the town's famous clam chowder, and Old West Cinnamon Rolls.
Carmel Beach, Carmel-by-the-Sea
The roughly one-mile Carmel Beach offers an utterly Instagrammable setting, edged by bluffs and wind-carved cypress trees. But kids will really love this Monterey County beach for its sugary sand—after all, this is where Carmel-by-the-Sea hosts an annual sandcastle-building contest during the fall. (Keep in mind that while the waters around here can be tame enough for kids, they can also get chilly.) Feel free to bring your dog to Carmel Beach, and stay through the evening to roast marshmallows at one of the fire pits. (More: Carmel Beach)
Family-friendly tip: Park in or near the lot at the end of Ocean Ave., which has the beach restrooms. You can also find free parking on Ocean Ave. just west of San Antonio Ave.
Best Family Beaches in Northern California
Main Beach, Santa Cruz
This wide beach sits right in front of one of Santa Cruz's top attractions: the classic rides and treats of the Santa Cruz Beach Boardwalk. Play in the sand, check out the action on the beach volleyball courts, and plan to stay into the evening, as summer means daily entertainment and Friday-night movies on the beach. Make time for a visit to nearby Natural Bridges State Beach, which offers excellent tide pooling during low tide and seasonal viewing of monarch butterflies—two good reasons to pack binoculars. (More: Natural Bridges State Beach)
Family-friendly tip: Walk along Beach Street and Front Street to find more family-friendly dining options, such as The Picnic Basket or Las Palmas Taco Bar.
Crissy Field, San Francisco
Outdoor playtime never stops at San Francisco's Crissy Field East Beach, in the northeast corner of the Presidio. Fly kites, build sandcastles, and make a full day of it by using the picnic tables and grills (dogs are welcome here). The waters are usually mild enough for swimming, but lively enough for kiteboarders and windsurfers (the bigger waves of neighboring Baker Beach and Fort Point are really just for experts). Best of all, you can enjoy views of both the Golden Gate Bridge and Alcatraz. Take the kids on a short walk to see birds at the Crissy Field Marsh. (More: Crissy Field)
Family-friendly tip: Rent bikes from the Sports Basement to explore more of the Presidio, and don't miss the hot cocoa and snacks at the Warming Hut.
Heart's Desire Beach, Point Reyes National Seashore
Families will love this beach in Tomales Bay State Park for two reasons: The waters of Heart's Desire Beach tend to be both calmer and warmer than other parts of Point Reyes National Seashore, since the beach is facing the protected land instead of the ocean itself. Take the easy trek down through the forest to the long sandy shore, passing by the seasonal stream that runs into the bay. This Marin County spot is an especially good place for the family to unplug, as cell service can be spotty. (More: Heart's Desire Beach)
Family-friendly tip: The beach's small parking lot fills up early, so come on weekdays, or plan any weekend visit for first thing in the morning or late afternoon.
Start Planning Your Trip
If you want to build a whole vacation around beaches, consider this Hidden Beaches road trip, and if you can't leave home without your fur baby, plan your trip around these 11 Great Dog Beaches. Make sure to stop for a few epic California beach burgers too.
There's no need to pack beach gear if space is at a premium. In California, mainstream drug stores typically carry basic boogie boards and sandcastle kits, as well as sunscreen and hats. Classic California surf shops will have plenty of cool beach gear too. One kid-friendly hack: Go into a surf shop to pick up a simple surf brush, which surfers use to clean their boards; they are also highly effective at removing sand from kids' legs and feet before they get back into a car.
Latest Travel & Selling Tips