Where travel agents earn, learn and save!
Discover quintessential sun and fun at these coastal charmers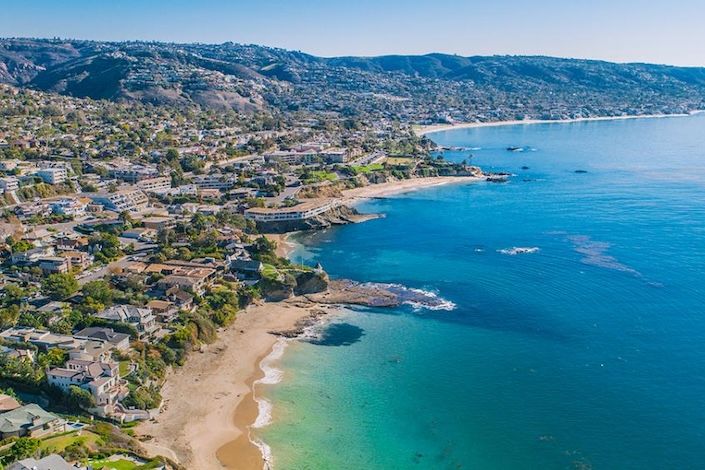 Photo: Trace Rouda/Getty Images
Take one part water, one part sand, one part sun-soaked coastal charm, and you've got the recipe for some of the Golden State's most appealing destinations. California beach towns stand out for their relaxed, inviting spirit, their beauty, and their boundless ways to play. Whether you're looking for a family-friendly destination or a romantic escape where the toughest thing you'll do all day is decide what sunscreen to use, read on to find the ocean-hugging towns, listed north to south, that match your mood.
Trinidad
Eighty miles below the Oregon border is the picture-perfect headlands hamlet of Trinidad (pop. 360). It's all about the sea here: Hike to the top of Trinidad Head to watch for whales, go tide-pooling at Indian Beach, or touch the starfish at Humboldt State University's Marine Lab. The ideal spot to soak up this beautifully rugged stretch of coastline is Trinidad Pier, California's northernmost oceanfront pier. Refurbished in 2012, it juts into Trinidad Harbor, a popular crabbing spot, and sits in the shadow of a massive rock crowned in greenery. Take an exhilarating walk along it, but leave time to tour the Trinidad Head Memorial Lighthouse. If you're looking to hit the sand and surf, Trinidad State Beach is a well-known surfing spot while broad and sandy Moonstone Beach is favored by beachcombers. (read more)
Santa Cruz
The ultra-mellow beach town of Santa Cruz along Highway One has a decidedly split personality, and both sides are cool. First, there's family fun at the Santa Cruz Beach Boardwalk, a yesteryear-style esplanade lined with arcade games, a wooden roller coaster, and a historic carousel. Then there's downtown Santa Cruz, where college students browse for vintage and boho chic, and down-to-earth restaurants focus on healthful meals made of organic, local ingredients. Having said that, the entire place is steeped in surf culture; top surfers seek out quintessential California breaks at Steamer Lane and Pleasure Point. Need more proof? The late legendary surfer Jack O'Neill, wetsuit pioneer and elder statesman of everything surf-related, made Santa Cruz his home. The O'Neill Coldwater Classic and other international surfing contests take place here every year. (read more)
Monterey
You won't run out of fun activities in this picturesque coastal community. The Monterey Bay Aquarium is an absolute must, a place where you can marvel at marine life and learn how to help preserve our oceans. On Cannery Row, you'll find luxurious waterfront hotels, great shopping, and abundant dining options. Just a short distance from town, some of the world's finest golf courses await in Pebble Beach. And the local wine scene is one of the area's best-kept secrets. (read more)
Carmel-by-the-Sea
If there were only the beach, that would be enough. But Carmel Beach isn't the only star of the petite Monterey County city. Rather, it's an ensemble cast of charms that make Carmel-by-the-Sea such an enchanting destination—one worthy of regular distinctions like Travel + Leisure's "16 Best Small Towns in America." The community has long exerted a magnetic pull on artists and authors, including Mary Auston, Sinclair Lewis, and Jack London. That rich history of creativity has left its mark: Today Carmel is home to nearly 100 art galleries. Wandering the streets exploring them, you'll also find plentiful wine-tasting rooms (there are nearly 20) and great boutique shopping along Ocean Avenue. (read more)
Santa Barbara
Bougainvillea twining across red-tiled rooftops, birdsong mingling with the ocean breeze, islands and whale spouts on the horizon—Santa Barbara's charms tempt at every turn. Perfect getaways don't get much more perfect. The charmingly small city, 90 miles north of Los Angeles, hugs both the beaches and Highway 101 (and also offers easy access by train). Don't miss sandy stretches within easy reach—Gaviota State Park offers camping, and Rincon Beach Park, about 20 miles south of the city, boasts world-class surfing at Rincon Point. In between are such spots as Refugio State Beach; Campus Point Beach, which is part of the famously gorgeous campus of UC Santa Barbara; and the dog-friendly Hendry's Beach, where the Boathouse Restaurant offers great seaside dining. (read more)
Photo: Dalton Campbell/Stocksy
Ventura
The city of Ventura, situated right where the Central Coast's lush farm and wine country meets the coast, combines world-class surfing waves with the allure of a great culinary scene (both food and drink), and access to an incredible national park. Surfer's Point is the best local spot to catch a wave (or watch the experts do it); for lounging and body surfing you have plenty of sandy options, from the beach alongside Ventura Pier to the wide stretches of Harbor Cove Beach. Downtown Ventura is right by the sand, too. The city center is home to shops, and several notable farm-to-fork eateries and local breweries such as Leashless Brewing and Topa Topa Brewing Company. After taking it all in, make Ventura Harbor your launching pad for Channel Islands National Park by exploring the park's visitors center, based here. Plan a day trip to the five-island archipelago or rent gear for an adventure right off the mainland. (read more)
Malibu
Stretching for more than 30 miles along the Pacific and Highway One, Malibu has achieved almost mythological status among California beach towns. For one thing, Hollywood stars and top athletes live in oceanfront homes here. While that may sound exclusive, there is plenty of Malibu magic for visitors to enjoy too. Considered to have some of the most perfect waves anywhere, Surfrider Beach, just off the Malibu Pier, is easily accessible, as is nearby Zuma Beach, a sun magnet for locals and families. In winter, Point Dume, at Malibu's north end, is great for spotting migrating gray whales. The perfect aesthetics stretch beyond the beach, too. The Getty Villa—the original home of the Getty Museum—focuses on ancient Greek and Roman art, and the Historic Surfboard Collection has 30 historic surfboards on display. (read more)
Santa Monica
With nearly four miles of beaches and a vibrant urban scene, Santa Monica blends the sophistication of an international coastal city with the laid-back vibe of a California beach town. Even though it's only 15 miles west of downtown Los Angeles, it feels like a weekend getaway spot. Celebrated for its dining and shopping, Santa Monica is home to several celebrity chef–helmed restaurants, and its retail hotspots range from the open-air Santa Monica Place to the major brands that line downtown's Third Street Promenade, an area made all the more lively by street performers. The stylish boutiques on Montana Avenue are perfect for finding the perfect so-L.A. item to take home, and keep your eyes peeled: This is a great place to spot local celebs. (read more)
Venice Beach
Abutting Santa Monica's south side, Venice Beach—or simply Venice—is famous for quirky happenings. Stroll down its iconic beachfront boardwalk, and you'll be weaving through mimes, jugglers, musicians, and other street performers that make up this ever-changing and unforgettable bohemian subculture. Stop by the outdoor weight room at Muscle Beach Gym, once the home turf of bodybuilder, actor, and future governor Arnold Schwarzenegger, or go mobile with a rented beach bike to follow Venice's stretch of the 22-mile Marvin Braude Coastal Bike Trail. On Venice's south side, boho-chic Abbot Kinney Boulevard contains a mile-long stretch of high-end restaurants, posh galleries, and edgy boutiques selling furnishings and fashions. Head this way for a retail fix especially on First Fridays, when food trucks and live music line the boulevard. (read more)
Huntington Beach
The endless summer was born in Huntington Beach. To understand how the sport has defined this Orange County city—and earned it the nickname of Surf City USA—step into the city's International Surfing Museum and immerse yourself in a world of waves, winds, tides, and swells. Even if you never get your toes on the nose, you can still watch locals riding the waves alongside the landmark 1,850-foot-long pier, browse through Huntington Beach's wealth of surf shops, or pay tribute to surfing legends memorialized at the Surfing Walk of Fame and Surfers' Hall of Fame. Savor the beach life by bicycling along the oceanfront path or go hiking or bird-watching at the restored estuary at Bolsa Chica Ecological Reserve, one of Southern California's most vital coastal wetland habitats. (read more)
San Clemente
It's all about the beach in San Clemente, the oceanfront Orange County town set along four miles of gorgeous coastline. Activity here centers around the nearly quarter-mile San Clemente Pier; with a license, you can fish from the pier, or just order some up with accompanying gorgeous views at the pier's Fisherman's Restaurant & Oyster Bar. After, bike or walk along the city's 2.3-mile Beach Trail, which passes the pier as it connects North Beach and Calafia Beach.
San Clemente is one of the country's leading surfing destinations; Trestles, the legendary series of breaks at San Onofre State Beach, is world-famous. If you're not quite ready to take on those epic waves, you can learn to ride in more mellow waters with lessons at the San Clemente Surf School, or stop into the Surfing Heritage & Culture Center to see its big collection of vintage boards. (read more)
Catalina Island
Swaying palms, white-sand beaches, and melt-your-heart sunsets—that's what you'll find at island getaway Santa Catalina Island. Catalina, as everyone calls it, has all the elements you want in an island retreat—appealing lodgings, tempting seafood restaurants, family-friendly water sports, and even a wine estate. Climb aboard the Catalina Express passenger ferry for the one-hour ride from Long Beach, San Pedro, or Dana Point, or take the Catalina Flyer from Newport Beach. Once you arrive, get around with rented golf carts or bikes, or just amble around on foot. Deciding where to stay can be half the fun—choose from luxurious hotels, vacation rentals, or even sleep under the palms at one of the island's many campgrounds. Book a sojourn at a bed & breakfast and get tips from the local proprietors—they might share some valuable insider tips. (read more)
Photo: Courtesy of Visit Oceanside
Oceanside
It doesn't take an etymologist to figure out how Oceanside got its name: The city is tucked up against the shore, 40 miles north of downtown San Diego. With sandy beaches and consistent waves, Oceanside has long been a favorite spot for surfers, swimmers, and stand-up paddleboarders. Rent gear at Asylum Board Shop before hitting the swells at Pier View North or Harbor Beach. Even landlubbers can enjoy the views on Oceanside Pier: Watch for dolphins or try your hand at fishing from the pier. Head slightly inland to see the exceptional collection at the Oceanside Museum of Art, fascinating historical artifacts at the California Surf Museum, or catch a live performance at The Brooks Theatre or The Star Theatre. Take home an art piece for yourself at the outdoor Sunset Market held on Main Street every Thursday night. (read more)
La Jolla
Although technically part of San Diego, the community of La Jolla feels like a destination unto itself: You could easily spend a few days in this enclave and get a full Southern California experience. Located about 20 minutes north of downtown, the wide, white-sand beaches of La Jolla Shores are a go-to location for kayakers, paddlers, and snorkelers, with gear available to rent from one of the local operators. On land, explore the Birch Aquarium, or stand along the sea wall at a beach known as The Children's Pool, and watch a large community of seals lounge, bark, and tend to their cubs. Shop in the upscale boutiques along Girard Avenue and Prospect Street, or on a more outdoorsy note, hike the ocean-view trails at the Torrey Pines State Nature Reserve. (read more)
Coronado
Like an island getaway a stone's throw from the city, the appealing island enclave of Coronado is wrapped with perfect beaches, including ultra-family-friendly Coronado Beach. Besides those soft sands, the island's crown jewel is the Hotel Del Coronado, built in 1888 and topped by russet red, castle-like turrets. Not far from the Del, the Loews Coronado Bay Resort sits on its own 15-acre peninsula and is known both for its water sports and for being especially dog-friendly. The diminutive island, reached by the arching Coronado Bridge, is easy to explore by bike. Rent one from Holland's Bicycles to pedal past elegant oceanfront mansions and tended gardens, or visit Orange Avenue, lined with shops, restaurants, galleries, and theaters. (read more)
Latest Travel & Selling Tips