Where travel agents earn, learn and save!
Travel & Selling Tips /

5 San Francisco hotels that are perfect for exploring the city
Choosing the right lodging is an essential part of the trip-planning process, and these properties will ensure you make the most of your Bay Area adventure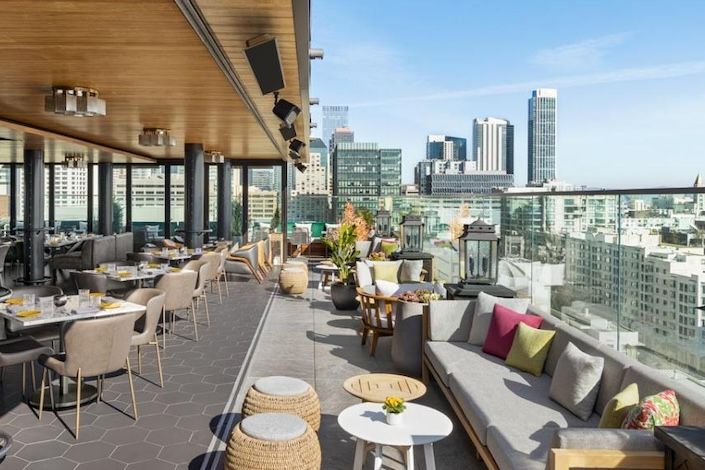 Photo: Courtesy Canopy by Hilton
San Francisco's iconic sights have inspired countless trips over the decades: Riding cable cars, visiting Alcatraz, and marveling at the Golden Gate Bridge are true bucket-list experiences.
That said, this vibrant city is also a collection of rich neighborhoods, each with its own history and personality. When planning a trip to San Francisco, think about how you like to explore: You might want to book your hotel in a central location—like downtown's Union Square, where you can easily set out in different directions to visit museums, shop, or experience the culinary scene. Or you can set up your base in a neighborhood like the Marina District, allowing you to spend time among the locals and focus on activities such as cycling to the Golden Gate Bridge or even playing at the city's beaches.
Consider staying at one of these five Hilton hotels in San Francisco, each of which offers a unique perspective on the City by the Bay.
Courtesy Hilton
Union Square has a fascinating history—it got its name from hosting pro-Union rallies during the Civil War—and today is a hotbed for shopping, dining, and live theater. This high-rise hotel, located right off the square, provides a front-row seat on the action: It's just two blocks from the luxury shops around Union Square and just one block from the Powell Street cable car turnaround. Start your visit by getting your bearings from the hotel's 46th floor Cityscape Lounge—the tallest skybar in the city—which has panoramic views of the city and Bay.
For a downtown hotel, the Hilton San Francisco also boasts plenty of resort-style perks, such as an outdoor pool and hot tub, two restaurants, and a generously sized fitness center. Rooms exude low-key elegance and many have skyline views and balconies.
The hotel isn't just a launching pad for city explorations, either. The entire Bay Area is at your doorstep. Stop by the lobby's in-house Big Bus Tours to consider a wide range of guided adventures, such as trips to Muir Woods, full-day excursions into wine country, or the popular double-decker bus tours that take you to all of the city's major attractions.
Courtesy Parc 55
Since it's just a few blocks off Union Square, Parc 55 affords easy access to plenty of San Francisco's acclaimed downtown restaurants, but this 1,024-room hotel is a foodie magnet in its own right. Its onsite restaurant, Kin Khao, has earned a Michelin star for its boldly creative Thai cuisine, such as a green curry rabbit dish and khao yum, a spicy turmeric rice salad. The hotel's other dining option—the California cuisine of Cable 55—has earned its own accolades, having been named a Surfrider Foundation Ocean-Friendly Restaurant for its sustainability practices.
Beyond its culinary street cred, the 32-floor hotel offers plenty of desirable amenities. The earth tone–decor rooms feature big bay windows that add oomph to the city views. Get your workout in at the hotel's 1,500-square-foot Fitness 55 gym, then take advantage of hotel guests' VIP access to the pool and hot tub at the Hilton Union Square across the street.
This is also a prime spot to stay if you're in town for a Giants game or concert at Oracle Park, located less than a mile away, or for a Broadway-level show at the Curran, the grand theater that dates back to 1922.
Courtesy The Barnes San Francisco
Immerse yourself in only-in-San Francisco charm at this 189-room boutique hotel less than a block off Union Square. Indeed, you can catch a cable car along Powell Street right outside the hotel's front door.
Rooms are rich with throwback charm—think velvet lounge chairs, quirky lamps, and headboards adorned with peonies. The eight-story hotel dates back to 1908, when it was originally the Hotel Manx. During Prohibition, there was even a speakeasy in the basement.
These days, you can enjoy your cocktails out in the open. Sit at the Barnes restaurant and bar to try a rum-based Dolores Park Swizzle (named after the Mission District park) or the Cable Car, crafted with Bay Area–made St. George whiskey. Both pair nicely with a Barnes burger topped with Marin brie. For more local flavor, start your day with a cup of the beloved Mr. Espresso, brought in from Oakland, served at the onsite restaurant.
Courtesy Canopy by Hilton
If you love to build a trip around museums, the SoMa/Yerba Buena neighborhood makes an excellent launching pad. After all, this area south of Market Street (hence "SoMa") is home to the San Francisco Museum of Modern Art (SFMOMA), the Museum of the African Diaspora (MOAD), and the Contemporary Jewish Museum. It's also a top spot for experiencing local art and films at the Yerba Buena Center for the Arts.
The 194-room Canopy by Hilton has its own artistic vibe, by way of retro decor. Rooms feature curved, upholstered headboards and chaise lounges, along with big windows that look out over downtown and the Children's Creativity Museum. If you're staying between Thursday and Saturday, head to the lobby for the hosted evening wine tasting. On any day, tuck in for a drink or a bite at The Social or The Bean Bar in the lobby, or head upstairs to Shelby's Rooftop lounge to pair your evening cocktail with more city views.
Catch the Muni light rail (there's a stop right outside the hotel) for the short ride to Chinatown or to explore the rest of the city. Make time to visit Yerba Buena Gardens, a collection of lawns, public art, and children's play areas that's less than a 10-minute walk away.
Courtesy Infinity Hotel San Francisco
Staying in San Francisco's Marina District, located along the northern edge of the city, places you near some of the Bay Area's timeless sights: Ghirardelli Square, the Palace of Fine Arts, and the Golden Gate Bridge.
The 75-room Infinity, which opened in fall 2023 as part of Hilton's boutique-style Tapestry Collection, provides a convenient home base for the area. It's just two miles in one direction from the bridge itself, and two miles in the other direction from Fisherman's Wharf, where you can embark on visits to Alcatraz. The Infinity makes it easy to start exploring too: Rent bikes right from the hotel so you can pedal to the green spaces and museums of the Presidio, located less than a mile away.
For downtime, the affordable Infinity keeps things simple with its welcoming public spaces, including a rooftop deck and firepits, as well as streamlined contemporary rooms that pop with color. Dine like a local at nearby restaurants, which include the vegetarian classic Greens, the creative sushi at Zushi Puzzle, and the gastropub fare of the Tipsy Pig—all three are within a mile of the hotel.
Latest Travel & Selling Tips