Where travel agents earn, learn and save!
News /

Transformed Delta Sky Club brings sleek glamour to Music City
After beginning construction in 2020, Delta Sky Club celebrates the completed renovation of the Nashville International Airport (BNA) lounge. The reimagined space adds over 10,000 square feet and nearly 200 seats to the original Club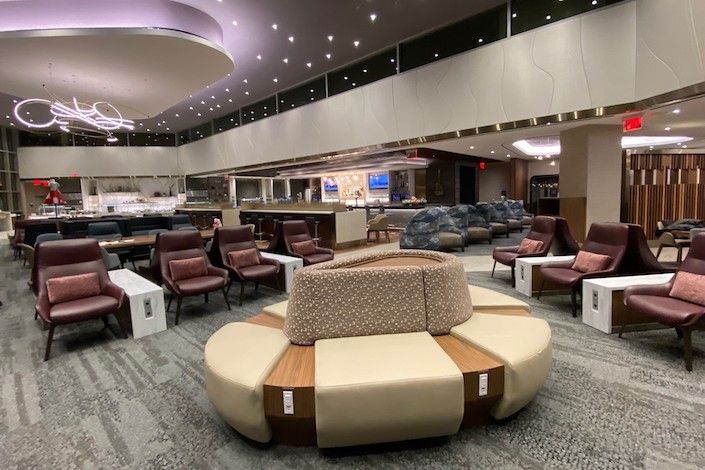 Delta unveiled a stunning renovation of the Delta Sky Club at Nashville International Airport (BNA), putting the finishing touches on an upgrade that reflects the city's growing prominence as a tourist and conference destination, and one that will further cement Delta's reputation as Nashville's premium airline.
At quadruple its original size and with expanded views of the airfield, the premiere space is the latest in a string of planned Delta Sky Club investments this year – just last week, the largest lounge in the network opened at the new Terminal C facility at New York – LaGuardia Airport. Across the network, Delta is building more state-of-the-art Clubs and expanding existing Clubs to deliver an elevated experience for guests looking to relax and recharge during travel.
Customers who visit the transformed 13,500-square-foot Club will enjoy 18-foot-high ceilings, private phone booths, sleek finishes and new furniture with seating for up to 275 guests – a near 200-seat improvement on the Club's capacity. An expansive new kitchen will allow lounge teams to enhance the Club's food and beverage service, serving seasonal, chef-inspired food options made from scratch.
The reimagined Club includes creative design touches that pay tribute to Nashville's status as a music mecca. A chandelier shaped like a guitar pick, designed specifically for this Club, makes for a one-of-a-kind lighting fixture. Wood slats adorning the ceiling and walls mimic guitar strings in another subtle homage to the city's musical reputation. LEGO® portraits of country music legends like Dolly Parton and Johnny Cash provide a whimsical look at artists who made their names in Nashville.
Other improvements to the Club include:
Three self-service kiosk stations for easy entry
Two gender-designated restrooms and one all-gender restroom
Exterior glass that automatically tints to reduce heat gain and glare
An upgraded beverage station including an espresso machine, spa waters, teas and sodas, plus an additional remote beverage station
A new premium bar featuring an extensive range of regional whiskies, bourbons and ryes
A temperature-controlled wine display
Delta operates up to 36 flights daily to all nine U.S. Delta hubs from Nashville.