Where travel agents earn, learn and save!
Exploring Sandos is easy with its 9 all-inclusive hotels located in some of the most beautiful natural havens in the world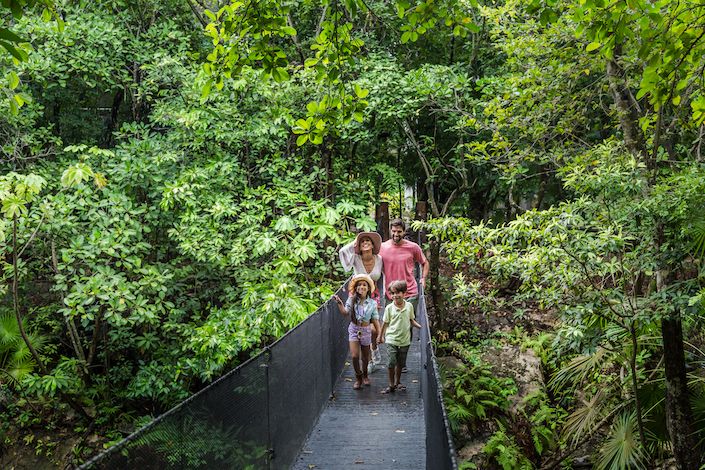 It's no secret that Sandos Hotels and Resorts loves helping travelers escape their daily responsibilities and offering them an unbeatable vacation experience. But did you know that they also love helping travelers disconnect from the online world and escape into nature?
With so many stunning landscapes to explore around the world, there is an endless list of places to see. Exploring Sandos is easy with its 9 all-inclusive hotels located in some of the most beautiful natural havens in the world. Read on to find out where.
Unbeatable discounts on your next adventure
It's time to enjoy nature, and you can live an unrepeatable adventure while saving big. As part of the Feel Nature campaign, travelers can save up to 46% on their next vacation at one of the all-inclusive resorts in Mexico or Spain. All you have to do is book before this offer expires and prepare to enjoy nature's first-class amenities and services.
Mexico
Carmen Beach
The first stop is Playa del Carmen, known for its beautiful white sand beaches, cenotes and jungle; It is a nature lovers dream. The perfect places to relax in Playa del Carmen are Sandos Caracol and Sandos Playacar.
Sandos Caracol is situated in the jungle, where monkeys swing above guests' heads, and the site's refreshing cenotes await a swim. If it's adventure you crave, look no further. Sandos Caracol's All Nature experience features numerous ecological activities that are fun and relaxing for travelers of all ages.
You can find Sandos Playacar on one of the most incredible beaches in the Riviera Maya. Put your feet up and bathe in the warm Caribbean climate with a massage directly on the white beach shaded by palm trees.
Other places to see in Playa del Carmen:
Xel-Há - This natural adventure park offers a variety of different activities surrounded by nature. From snorkeling to flying through the air on a zip line, Xel-Há is a natural paradise.
Cenote Cristalino - An open cenote with the lush jungle bordering the refreshing water, perfect for snorkeling and swimming.
Xplor Adventure Park – Who said that enjoying nature couldn't be fun? The Xplor adventure park is perfect for everyone and offers a day full of ATV rides, climbing and zip-lining in the jungle of the Riviera Maya.
Save up to 46% at Sandos Caracol and up to 42% at Sandos Playacar!
---
Cancun
A short distance from Playa del Carmen is Cancun, one of the most coveted beach destinations in the world . At Sandos Cancun, you can let yourself go and feel the freedom of this paradise. Whether it's swimming in one of their 3 infinity pools, listening to calming music, or taking a spinning class overlooking the ocean, all you have to do is relax!
Other places to visit in Cancun:
Playa Delfines - If you want a place to really escape the crowds and enjoy the warm weather in peace, Playa Delfines is the place for you.
El Edén Ecological Reserve - El Edén Ecological Reserve offers a variety of experiences in the water and on land. Its main attractions are the Cenote Eden and its beautiful mangroves.
For more excursions to do in Cancun, check out Sandos' blog on the best excursions in Cancun.
Save up to 33% at Sandos Cancun
---
Los Cabos
Can you imagine waking up in an incredible room with views of the ocean from the side of the mountain in Los Cabos? This can become a reality with Sandos Finisterra. But that's not the only amazing thing!
Designed to mimic the desert and mountainous landscape of Los Cabos, Sandos Finisterra's incredible facilities and services aim to create absolute relaxation and rejuvenation. Take a walk through the marina a few meters from the complex, give yourself a massage in the middle of the mountain or let yourself be pampered in the beauty salon.
More places to visit in Los Cabos:
Whale Watching - We know it's not a site, but during whale watching season, it's a must for travelers who want to see the spectacle of these beautiful creatures. They can be seen from the beach or during a zodiac excursion along the beach. Check out Sandos' blog about whale watching in Los Cabos here.
Golf Courses - Everyone relaxes in their own way, and if you like golf, you're in luck because Los Cabos has some of the most unique golf courses in the world.
El Arco Tour - Explore life in the Sea of ​​Cortez as you sail to one of the most impressive rock formations in the world.
Save up to 37% at Sandos Finisterra
---
Fun, Relaxing and Exciting Nature Excursions
While you stay at one of Sandos' 4 fantastic all-inclusive resorts, you will have the opportunity to live a unique experience with the Seek & Go experts. From a sensual evening with your partner to an exciting adventure with your family, book an unforgettable activity with the Seek & Go representative located at the hotel.
Spain
Benidorm Nature
Live a truly unforgettable wellness experience and let yourself go as the incredible staff at Sandos Monaco pamper you in the world-class spa or in their own wellness center. Discover all their healthy activities, such as yoga, aqua wellness and self-massage workshop, and much more.
Also in Benidorm is the wonderful Sandos Benidorm Suites. This beautiful hotel is designed for travelers who stay active and want to disconnect a bit. With an extensive sports program , gym and spa, there is no better place to relax.
More places to visit in Benidorm:
Vila (Villajoyosa) – This part of the city is known for its Mediterranean atmosphere. It stands out for the natural elements that blend perfectly with the city. The colorful houses are located next to a river, and the incredible beaches are very close.
Serra Gelada Natural Park – This natural park is an amazing nature paradise. Full of dunes, cliffs and islands, it is perfect for a walk in the park and really connect with nature.
---
Ibiza Nature
Ibiza is known for its beautiful bays, its crystal clear waters and its incredible sunsets . A true natural paradise for those who just want to disconnect and find themselves.
Sandos El Greco embodies everything that makes Ibiza such a desirable destination. The hotel sits in front of a beautiful beach and a powerful sea. Throughout the hotel you can explore the culture of Ibiza and its stunning surroundings.
More places to see in Ibiza:
Ses Salines Natural Park - In the south of Ibiza is the Ses Salines Natural Park. Declared a World Heritage Site, it is a wetland where you can find a multitude of birds, inlets and impressive sunsets.
Benirrás Beach - This outstanding beach is located within a bay and has become popular among those looking to get away from the bustle and relax in a natural environment. If you get the chance to visit this paradise, be sure to enjoy its incredible atmosphere even on Sunday nights, when a drumming ritual takes place.
---
Lanzarote Nature
Disconnecting and spending time in nature does not necessarily have to be in forests or jungles, and Lanzarote breaks the rules of the game for a natural retreat. The volcanic landscape makes it a getaway full of excitement and relaxation.
In Lanzarote, Sandos Papagayo is located between the famous Playa Blanca and the volcanoes. Live the natural experience through ecological activities, yoga on the beach and walks in the famous Los Ajaches Natural Park.
Also in Lanzarote, Sandos Atlantic Gardens is surrounded by the volcanic sands and natural beauty of the famous Canary Islands. This impressive complex offers an adults-only haven with a series of spacious and beautiful bungalows with sea and coastal views.
More places to see in Lanzarote:
Montaña Roja - It would not be a Lanzarote retreat without an excursion to this gigantic volcano. Take in the scenery through a guided hike where you can learn about the formation and even visit the crater!
Puerto Calero Marina - There is no better way to relax than to enjoy a good cup of coffee in the morning watching the boats go by. It is the perfect place to take a minute to stop, take a breath and rejoice in the beauty of Lanzarote.
Latest Travel & Selling Tips