Where travel agents earn, learn and save!
Travel & Selling Tips /

A Christmas itinerary in Buena Park that yule love
Join Buena Park on a journey where every day feels like Christmas, and every moment is filled with the spirit of the season!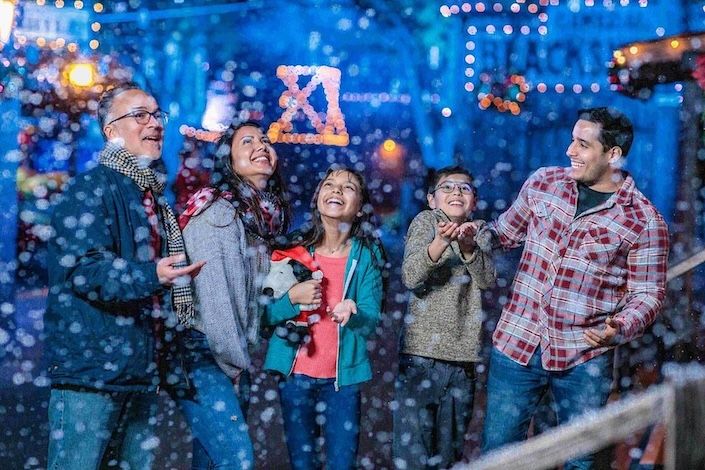 As the winter season unfolds, the enchanting city of Buena Park, California, becomes a festive wonderland filled with joy, laughter, and a touch of holiday magic. From twinkling lights to cheerful carols, the destination invites you to embark on a remarkable yuletide adventure. We've crafted an itinerary that will take you through the best spots for merrymaking. Join us on a journey where every day feels like Christmas, and every moment is filled with the spirit of the season.
Day 1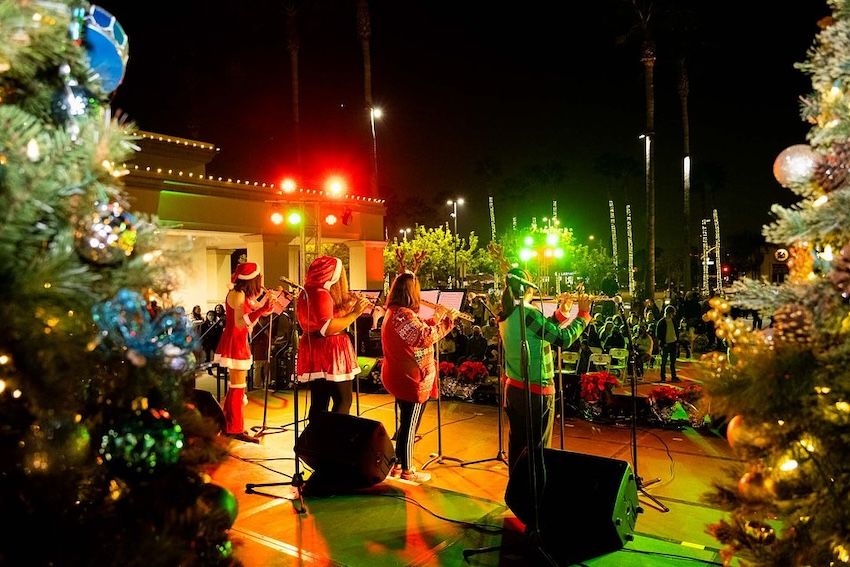 Buena Park Christmas Tree Lighting Ceremony
Should you find yourself arriving in Buena Park on the first of December, settle into one of the destination's many comfortable and affordable hotels before you make your way to City Hall. There you will find the Buena Park Christmas Tree Lighting Ceremony, where the air is buzzing with festive joy as the community comes together to view the dazzling lights that will soon illuminate the night. Local schools put on heartwarming performances, while food trucks offer delicious hot chocolate and tamales for a casual dinner during the festivities. You just might run into Santa Claus himself while you're there.
Another wonderful evening activity is visiting Knott's California Marketplace and popping into Mrs. Knott's Chicken Dinner Restaurant for a warm country-style meal. Located just outside the main gate of Knott's Berry Farm Theme Park, this spot has become one of the most popular family restaurants with a history that dates back to the park's opening in 1934. The iconic fried chicken, homemade biscuits, and boysenberry pie are a must try. After you've filled your bellies with only the best comfort food, take a stroll around the marketplace and do some shopping. The Marketplace Emporium sells Christmas décor of all sorts throughout the year. From ornaments to miniature displays, you'll find everything you need to transform your home into the North Pole.
You can also venture just 5 miles down the road to the Downtown Disney District for some seasonal fun. The lively promenade transforms into a lovely display, adorned with colorful Christmas trees and other larger than life décor. Make sure to step into one of their many dining establishments, such as Naples Restaurante e Bar or the Jazz Kitchen Coastal Grill. Here, you can try an array of seasonal foods and beverages that will be available until the first week of January.
Day 2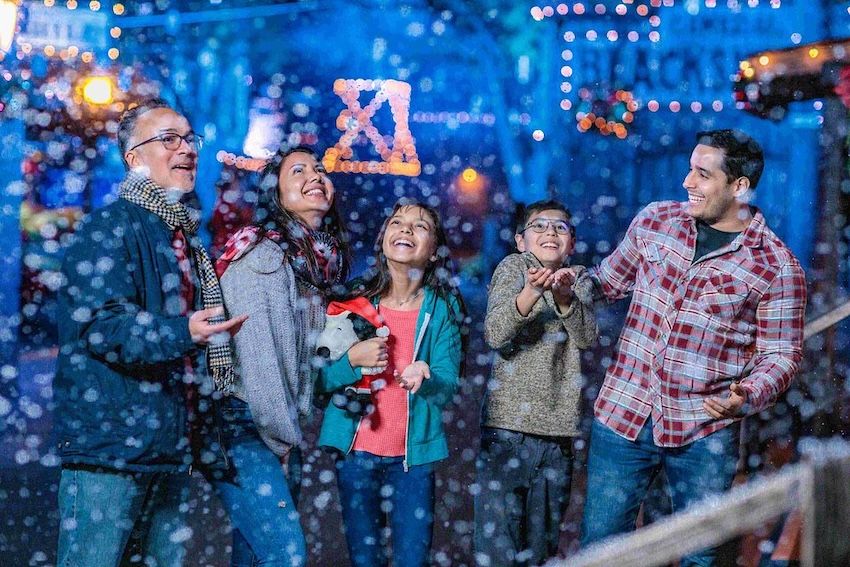 Knott's Merry Farm
Kick start the morning with a hearty meal at Broken Yolk Cafe, a local hot spot with an extensive list of breakfast offerings. Cozy up in a booth with a cup of their cocoa or coffee, and order their famous Cinna-Cakes as your main dish – the perfect combo for a chilly morning wake-up call.
Following breakfast, your destination is Knott's Merry Farm, found just across the street. There you will find the beloved theme park holiday spirit in full swing, with Ghost Town as the hub for all things festive. Take in the ambiance as you enjoy carolers strolling through the area, attend the tree lighting ceremony, and be awestruck by Snow and Glow, an immersive snowfall experience. For lunch, stop at one of the many dining locations offering exclusive eats and treats that will be available for a limited time only. After doing some taste testing, explore the Christmas Crafts Fair to discover unique gifts to take home to your loved ones from over two dozen local vendors. You can also stop at the shops throughout the park to get your hands on the Knott's Merry Farm Collection, which includes exclusive apparel, accessories, ornaments, and collectables. Afterwards, grab a seat one of the many stage like Snoopy's Night Before Christmas Ice Show or A Christmas Carol, among others. And don't forget to pay a visit to Santa's Cabin so you can get the perfect photo for those holiday cards to send home. Be sure to make the most of discounted tickets to Knott's Merry Farm to ensure an extra dose of cheer. For all the best tips, read Knott's Merry Farm: Know Before You Go.
If you're not ready to call it a day just yet, book a dinner show experience at Pirates Take Christmas. As you feast on a three-course meal, cheer on Santa in his courageous quest to save Christmas! Mischievous pirates have seized Santa and Mrs. Claus, casting a dark shadow over the holiday season and leaving the world's well-behaved children in disappointment. This adventure combines audience participation, heart-pounding action, and the spirit of the season.
Day 3
The theme park adventure continues as you make your way to Disneyland for the day. Begin your day by reserving a character breakfast experience at the charming Plaza Inn, where you'll have the joy of meeting Mickey, Minnie, and their beloved friends, all while indulging in a delectable buffet spread. As you wander through the park, you'll be greeted by decorations adorning Main Street and Sleeping Beauty's Winter Castle, its turrets glistening with a layer of snow. During this time, Disneyland also offers unique ride overlays, including "it's a small world" Holiday and Haunted Mansion Holiday. For those who love live entertainment, secure your spot along the route for the captivating Christmas Fantasy Parade and the mesmerizing "Believe…In Holiday Magic" Fireworks shows. There is also an opportunity to cross over to Disney's California Adventure to take part in their Festival of Holidays, a multi-cultural food festival that also features live performances like ¡Viva Navidad! and the chance to take part in new traditions. Guests can also enjoy rides such as Mater's Jingle Jamboree and Luigi's Joy to the Whirl, as well as the nighttime spectacular: World of Color – Season of Light.
The Cauldron Spirits and Brews
For dinner, head back to your home base of Buena Park for an evening at The Cauldron Spirits & Brews. This immersive haunted house themed bar is perfect for those who are looking for a little bit more of a nightmare before Christmas feel. Their modern twist on French cuisine is the perfect cozy meal to round out the day. We highly recommend that you order a bowl of their Beef Bourguignon and pair it with the Ceridwen Cherise, a cinnamon forward vodka cocktail.
For a more kid-friendly dining experience, venture to Portillo's , a little slice of Chicago that has found a home in Buena Park. The menu includes family favorites like hot dogs, Italian beef sandwiches, burgers, ribs, and pasta. While they might be famous for their hot dogs, it's crucial to try their Candy Cane milkshake which makes a highly anticipated return each year.
Day 4
Before you head home from your stay in Buena Park, pay a visit to Porto's Bakery & Cafe, which truly shines during this time of year. From traditional yule logs to gingerbread-spiced cookies, Porto's seasonal pastries are a symphony of flavors that will make you truly understand Santa's love for sweets. Pair these treats with one of their seasonal beverages and you have the perfect recipe for holiday happiness.
Latest Travel & Selling Tips