Where travel agents earn, learn and save!
Consumer Deals /

Save more with Playa Resorts' All-Inclusive Plus package at The Yucatan Resort!
Enhance your stay in Playa del Carmen!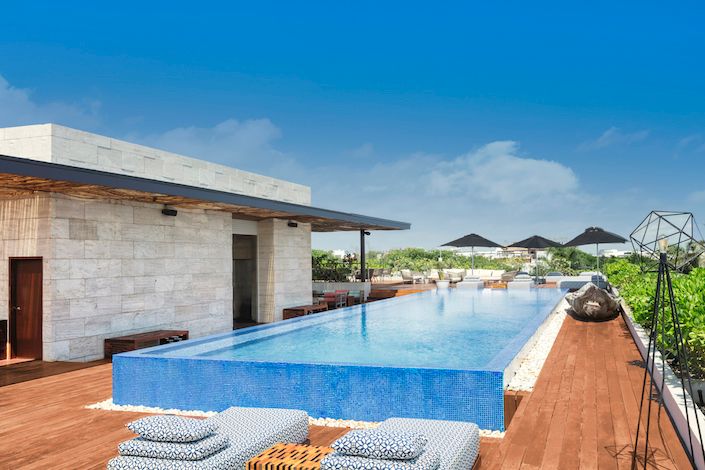 Want even more out of your all-inclusive vacation? Upgrade to All-Inclusive Plus and receive exclusive access to all amenities at Hilton Playa del Carmen, The Yucatan Playa Del Carmen Resort's sister all-inclusive adult resort, newly renovated and rated Four Diamonds by AAA for upscale style and amenities with the right touch of service.
With multiple swimming pools and hot tubs, a magnificent beachfront with waiter service and an incredible dining scene featuring an array of cuisines, it's easy to see the perks of Plus.
Expand Your Palate
In addition to The Yucatan's four restaurants and bars, guests who upgrade to All-Inclusive Plus gain access to Hilton Playa del Carmen's diverse dining scene featuring eight restaurants, four bars and three lounges, for a total of 19 diverse dining options. From traditional Mexican fare at Rincón Mexicano to exotic Asian fusion at Asiana and an authentic tequileria and cigar club bar, unlimited culinary delights await All-Inclusive Plus guests at Hilton Playa del Carmen, just minutes away.
Double Your Fun
Bring out your inner explorer, nurture your need for relaxation and awaken your sense of adventure at Hilton Playa del Carmen. Whether you're up for some friendly beach volleyball competition, simply want to catch some rays beachside—drink in hand, or much prefer a guided tasting of Mexico's most ancestral spirit, All-Inclusive Plus guests can access ALL all-inclusive offerings at Hilton Playa del Carmen. Whatever you want to do, you can do it at Hilton Playa Del Carmen:
Pristine beach with waiter service
Tranquil relaxation pool
Oceanfront pool with activities
In-pool hot tubs
Gourmet tastings and culinary classes
Zumba and dance classes (salsa and merengue)
Billiards & Ping-pong
Tennis
Life Fitness Center featuring spin, yoga and Stott Pilates
Terms & Conditions
Blackout dates Apply: December 21, 2021 - January 3, 2022
The service hours at the Hilton will be from 9 am to 10 pm
Parking lot available at the Hilton subject to availability
Restaurants reservations can be booked from the Yucatán Resort from 9 am to 5 pm or directly at the Gourmet Experience desk, located in Hilton Playa Del Carmen's lobby
Chef´s Plate available with previous reservation at the price of $89 USD p/p. Reservations can be booked directly at the Gourmet Experience desk, located at the Hilton Playa Del Carmen's lobby
Fine cuts of meat, lobsters, and premium drinks are not included
Dress code applies
Pool lounge chairs available subject to availability
Beach cabanas are available for rent and can be reserved directly at the Hilton Playa Del Carmen
Spa available at an additional charge
Gym is available with previous reservation