Where travel agents earn, learn and save!
Consumer Deals /

Margaritaville at Sea launches BOGO offer ahead of June 2 Paradise sailing
Book popular three-day/two-night cruises from Palm Beach, Florida to Freeport, Grand Bahama Island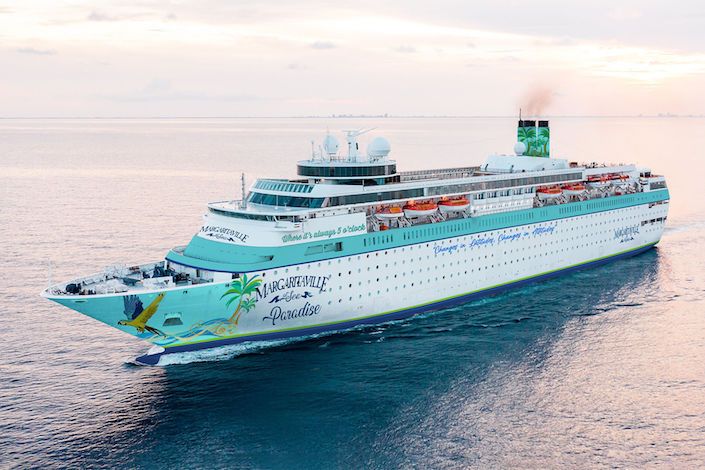 Margaritaville at Sea has launched a new BOGO special to celebrate a multimillion-dollar round of new upgradesand additions to the Margaritaville at Sea Paradise.
With the Buy-One-Get-One special, passengers can book popular three-day/two-night cruises from Palm Beach, Florida to Freeport, Grand Bahama Island starting at US$169 per guest, with a second guest sailing for free. The offer runs through May 31, 2023 and is valid for sailings through December 31, 2023.
When the ship sets sail on June 2, passengers will be able to enjoy several all-new offerings, including:
Paradise Pickleball at Sea: The ship's forward deck is being reimagined to include a regulation pickleball court and outdoor lounge space.
Keys on the Water Dueling Piano Bar: This new venue will feature two talented piano players, lively nightly entertainment and craft cocktails.
Stars on the Water Production Shows: The curtain will rise on two new theatre shows. 'Caribbean Heat' will feature energetic music, dance and acrobatics for a musical trip around the Caribbean, while 'Radio Margaritaville: LIVE! At Sea' will include live bands, artists and musical storytelling.
Cheeseburger in Paradise Burger Bar: At this new no-extra-charge addition at 5 o'Clock Somewhere Bar & Grill, guests will be able to build their own all-beef burger creations with tasty toppings.
Fins Up! Fitness Center: Powered by Echelon Fitness, this reimagined fitness centre will feature a range of new fitness experiences, including Touch Smart Fitness Mirrors, connected bikes, rowing equipment and more. In addition, Suite Cabins will now be equipped with their own connected mirror equipment for a premium in-cabin fitness experience.
Fin City Arcade: This new high-level Fin City Arcade experience will be buzzing with a new lineup of the latest video games.
Updated cabins: Each of the ship's 658 staterooms will be refreshed and updated to ensure comfortable and chic surroundings for passengers.
Jolly Mon Kid's Club (ages 3-6) and Parakeets Kid's Club (ages 7-12): These two completely refreshed Kid's Club options will allow parents to relax while qualified youth counsellors entertain kids with games, arts and crafts, shows, tours and more.
Hemisphere Nightclub: This nightclub experience features an all-new cocktail menu, bottle service, a live DJ and a refreshed venue on the ship's highest deck.
Fins Dining: In the ship's main dining room, passengers will enjoy an expanded menu featuring new island-inspired signature dishes, a new selection of cocktails and wines, and scratch-made desserts including Margaritaville at Sea's original Key Lime Sponge Cake.
In addition to these new onboard experiences, Margaritaville at Sea is expanding its onshore excursions in Grand Bahama, adding an 'Ultimate Party Boat and Snorkeling Experience' and 'Grand Bahama Cycling Adventure' to the current lineup of pig swimming, dolphin encounters and all-inclusive resort day passes. Plus, the ship has partnered with Pelican Bay Resort to offer guests a third Cruise & Stay option that extends their travels by combining the cruise with a stay on Grand Bahama Island.
For more information go to margaritavilleatsea.com or call 1-800-814-7100.
Source: Travelweek