Where travel agents earn, learn and save!
Book your clients on Indus Travels' tours around the world today and enjoy the lucrative perks!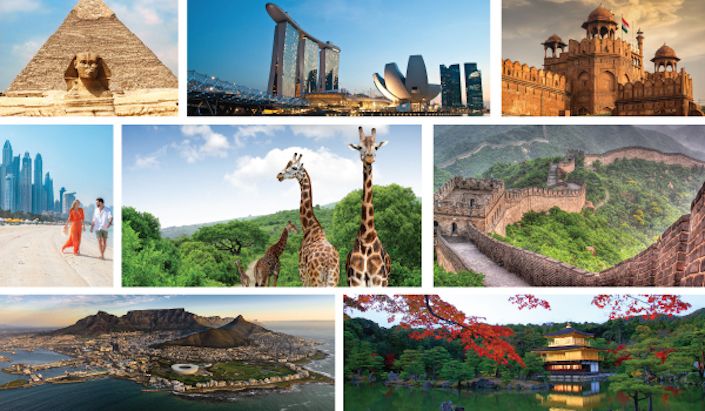 Let your clients embark on a journey to explore the world like never before! Indus Travels' world tours offer an outstanding experience across breathtaking destinations around the globe. With comfortable accommodations, hassle-free travel arrangements, and expert local guides, all they have to do is create unforgettable memories of touring the world.
Wait for the best part! Indus Travels offers a 12% commission to the travel agents. It is a win-win for you and your clients.
Book your clients on Indus Travels' tours around the world today and enjoy the lucrative perks!
SPLIT - ATHENS – CAIRO – DUBAI – CAPE TOWN – KRUGER NATIONAL PARK – JOHANNESBURG –SINGAPORE – NEW DELHI – BEJING
25 Days From*:CAD$12695
Tour highlights:
Witness the grandeur of the Acropolis, a historical landmark in Athens
Be awestruck by the magnificence of Egypt's Great Sphinx of Giza
Visit Al Fahidi Fort, the oldest building in Dubai, and visit Dubai Museum
Admire the magnificent views of Table Mountain from Cape Town
Spot the Big Five in Kruger National Park, one of Africa's largest game reserves
See the famous Merlion statue in Singapore and enjoy scenic views of Marina Bay
Take a rickshaw ride in Old Delhi and admire the Mughal wonder, Jama Masjid
Head to the longest wall humans have ever built, the iconic Great Wall of China
ISTANBUL – NAIROBI – MASAI MARA – DUBAI – DELHI – AGRA – DELHI – BANGKOK – SIEM REAP – HONG KONG – KYOTO
24 Days From*:CAD$14351
Tour highlights:
Explore the magnificent Hagia Sophia and the Blue Mosque in Istanbul
Search for the Big five in Masai Mara National Reserve, one of the best in Africa
Visit the Jumeirah Mosque, a gorgeous architectural landmark of Dubai
Admire the iconic Red Fort, a UNESCO World Heritage Site in Delhi
Travel to Bangkok and see its famous temples- Wat Traimit and Wat Benchamabophit
Take in the breathtaking beauty of Angkor Wat, world's largest temple complex
Enjoy the bustling markets, iconic colonial sites and great architecture of Hong Kong
Discover the Shinto Shrine of Fushimi Inari in Kyoto, the previous capital of Japan
Terms & Conditions
*Cash or bank transfer price.
Sale valid until May 31st, 2023 for new bookings only. Indus Travels does their best to provide accurate and up-to-date information in their emails, which are generally correct at the time of sending, but errors may occur and prices and availability are subject to change.
*Complimentary room upgrades depending on availability
Latest Promotions & Incentives