Where travel agents earn, learn and save!
News /

Spirit Airlines' Fit Fleet® gets even fitter with its first-ever Airbus A321neo delivery
The largest member of Airbus' A320 Family aircraft ushers in a new chapter for the airline with even better fuel-efficiency & more seats per departure on existing routes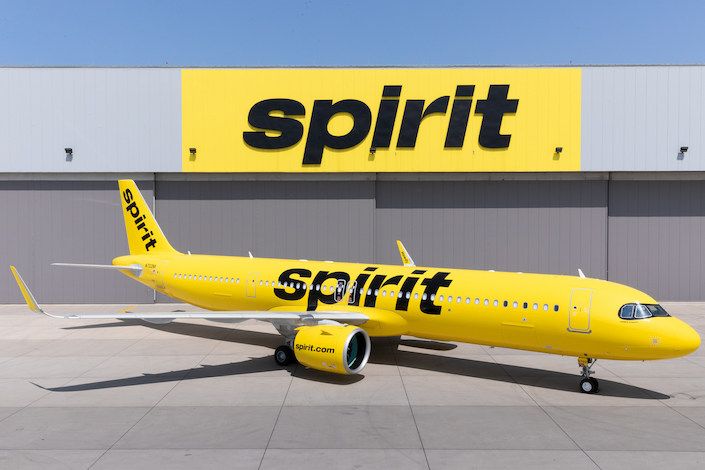 Spirit Airlines celebrated a major company first with the unveiling of its first A321neo aircraft in a ceremony at the airline's Detroit maintenance hangar. The aircraft, N702NK, will operate its first commercial flight on June 7. Spirit plans to accept seven more new A321neos in 2023, and 24 more are projected for delivery in 2024 in addition to other A320 Family aircraft deliveries.
The A321 is the largest member of the Airbus A320 Family, and Spirit currently operates 30 A321ceo aircraft in its fleet of nearly 200 aircraft. Spirit already operates one of the youngest and most fuel-efficient fleets in the industry and adding the A321neo to its fleet will drive even more fuel efficiency. Going forward, all of Spirit's A321 aircraft will deliver with new engine option (NEO) advanced engines that together with fuel-saving Sharklet™ wingtip devices, are 20 percent more fuel-efficient than A321ceo aircraft. Additionally, the new aircraft offer additional range and a quieter onboard experience for Guests.
Spirit is currently in a fleet renewal process as it retires its A319ceo aircraft while adding larger, more modern aircraft to increase capacity and fuel efficiency. Spirit recently completed an agreement to sell 29 of its A319ceo aircraft, which are the oldest aircraft in Spirit's fleet and the smallest of the Airbus A320 Family aircraft. The company is planning for all its A319ceo aircraft to transition out the fleet by the end of 2025.
The new features and benefits of the A321neo include:
A321neos offer expanded seating capacity with the optimized use of cabin space, increased exit limits and a new cabin door configuration. Additionally, all new aircraft are receiving Spirit's latest cabin upgrade with enhanced, wider seats that include additional usable legroom from the curved seatback design
The larger aircraft allow Spirit to increase capacity at constrained slot-controlled airports, providing More Go for Guests in major metropolitan areas
Spirit will maintain its wide aisles that allow quicker on- and off-boarding and extra space for crews to work
The new aircraft add an additional 500 nautical miles in range over the previous generation A321ceo type, opening new destination opportunities
Spirit is installing Pratt & Whitney GTF engines on new aircraft deliveries. The GTF engine has demonstrated its promised ability to reduce fuel burn and carbon emissions by 16 percent on this family of aircraft, reduce nitrogen oxide emissions by 50 percent compared to the regulatory standard and reduce the noise footprint by 75 percent
Recognition
Aviation Week Network's Air Transport World (ATW) named Spirit Airlines the Value Airline of the Year as part of the ATW 2023 Airline Industry Achievement Awards. Additionally, WalletHub named Spirit the Most Affordable Airline and No. 2 of 11 overall in its 2023 Best Airline Awards. Spirit was also recognized with the FAA's "Aviation Maintenance Technician Diamond Award of Excellence" for the fifth consecutive year.