Where travel agents earn, learn and save!
News /

Sandos Playacar Renovates Its Family and Adults-Only Sections
Providing even better service that meets the needs of all different kinds of travelers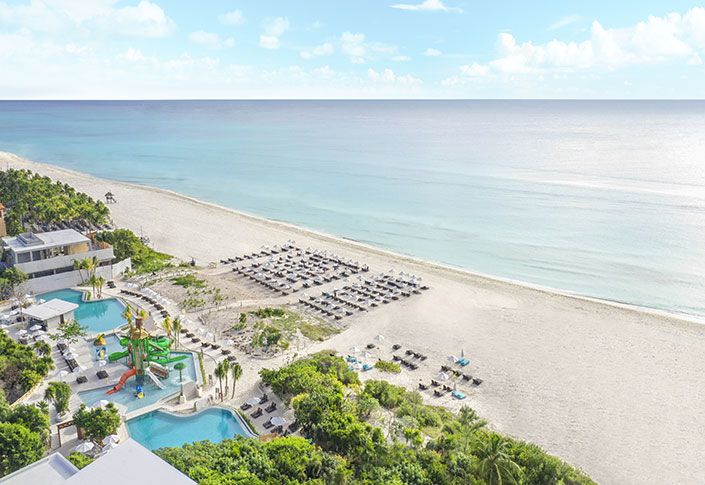 As of December 1, Sandos Playacar Beach Resort has launched some changes to its guestrooms, common areas and restaurants in order to improve stays for its guests and provide even better service that meets the needs of all different kinds of travelers visiting
the resort.
These improvements include more spacious rooms for families, oceanfront locations for the Select Club Adults Only Section, new pools and areas for kids, and even 24-hour transportation within the hotel property.
New Room Categories
For families, the resort has opened an incredible new oceanfront infinity pool complete with a swim-up bar for grown-ups and a water park for kids. The available room categories for the Riviera Family Section fall under two new kinds of rooms:
• Riviera Family Queen Junior Suite - a spacious room with two Queen size beds, a sofa bed, and
a full bathroom with shower and hydromassage tub
• Riviera Family King Junior Suite - the second and newest Family Section room has become a
favorite for children. It includes a King size bed, a full bathroom with shower and hydromassage
tub, and a bunk bed for three kids
Both categories are located just steps away from the immense new family pool, which offers activities starting early as well as a swim-up bar.
Meanwhile, the Select Club Adults Only Section now features an improved location with access to a new private beachfront pool along with its two new room categories:
• Select Superior - an ideal room for two to three guests who wish to stay just a few steps from the exclusive adults only pool, which offers poolside waiter service
• Select Ocean Front - a space created for two adults, with a King size bed or two Double beds. In this room, guests can wake up to the sound of the ocean and the best views in Playa del Carmen
New Areas and More Perks for Families
In addition to its new rooms, Sandos Playacar now has new spaces designed for family-friendly fun. The new main family pool sits right by the ocean and has the following amenities:
• Water park with five water slides and a giant water bucket where children can have a blast from 10am until 5pm (height restriction of maximum 3 feet 7 inches tall)
• Ocean view infinity pool right next to the slides, giving adults the opportunity to enjoy the sun and some stunning views while the kids have fun
• Swim-up bar with drinks, cocktails and non-alcoholic beverages, open from 10am to 6pm
• Snack bar serving food from 11am to 5pm: opening soon!
Guests staying in the Riviera Family Section can access five different pools near their rooms, in addition to the new oceanfront option. For even greater comfort, transportation is available from the rooms to different parts of the resort.
When it comes to breakfast, Riviera Family Section guests have access to the popular Festival Grand Buffet as well as El Gaucho restaurant inside the Riviera Family Section, open for breakfast every day from 7am to 11am.
Perks for Select Club Adults Only Guests
With the sections now being switched around, the exclusive areas for Select Club Adults Only guests are as follows:
• Main adults only pool steps away from the ocean, with a relaxed ambiance and special activities exclusively for Select Club guests
• Exclusive restaurant open for breakfast. Select Club guests have access to Iztapalapa restaurant every day from 7am to 11am
• Adults only snack bar on the beach: Blue Moon becomes an exclusive Select Club bar with
snacks during the day and parties in the afternoon/evening.
• More spacious beach area. The Select Club beach area is double the size while maintaining its
laid-back atmosphere
• 2 lounges (1 in the main lobby and 1 in the Meeting Point) with premium drinks, snacks,
concierge service, computers and library
In addition, different restaurants will be assigned every evening for exclusive adults only dinners, in addition to all of the upgraded services and amenities that Select Club Adults Only guests already enjoy.
These improvements showcase Sandos Playacar's commitment to all the different kinds of travelers who visit this beach resort, providing comfort and satisfaction for an unforgettable Riviera Maya vacation.