Where travel agents earn, learn and save!
News /

JetBlue cuts summer flight plans to avoid last minute cancelations
JetBlue believes the best way to fix its cancelation problems is to cut flights, but what about the customers left with nowhere to go?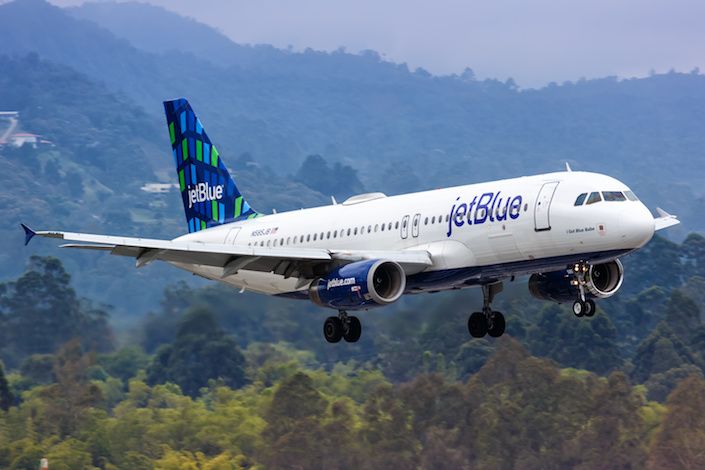 Last weekend, JetBlue Airways canceled more than 300 flights, which the airline says was due to staffing issues and bad weather in Florida late in the week.
JetBlue is already in the news with its unsolicited bid for Spirit Airlines. Disgruntled passengers will take no solace from that, given that Spirit also took the ax to many of its flights over the weekend.
Would a JetBlue - Spirit merger make things better?
USA Today reported that JetBlue canceled 18% of its Saturday, April 9 flights and 13% of its Sunday flights. Shadowing its suitor, Spirit canceled 14% and 13% on the two weekend days.
With US airports packed with spring break travelers, passengers struggled to find new flights. Most available flights were for later in the week, causing many to cancel their trip or find other ways to get to their destination.
USA Today reported an email from JetBlue president Joanna Geraghty told staff that poor weather and air traffic control (ATC) delays have led to "cascading problems."
These included planes and crews being out of place, exacerbating problems for the already under-staffed airline. Geraghty added, "We had some big news at JetBlue this week, and while that has rightly been the focus of a lot of buzz, I want to assure you our #1 priority right now is the operation. You have been simply incredible under very difficult circumstances, and we want to thank you for taking care of our customers. We are letting you and our customers down, and that is not consistent with what we stand for."
She added that "We are working around the clock to address some of the most difficult operating conditions we have ever faced as a company."
Here's what one passenger thought about JetBlue's performance:
It's heartening to see a president admit they are not taking care of their customers, although that does seem at odds with the public message of blaming the weather and ATC.
Blaming your customers is never a good idea
In Australia, where airport delays have been horrendous, such humility has been sorely lacking. Addressing the long waits, Qantas CEO Alan Joyce blamed passengers for the delays, saying they were not "match-fit."
He said he had walked through the terminal and seen passengers forgetting to take their laptops and aerosols out of their bags, causing the delays.
JetBlue plans to avoid future flight disruptions by cutting 8-10% off its summer schedule. Geraghty said: "Despite these challenges and, based on your feedback that the schedule is wound too tight, we know the best plan is to reduce capacity now."
Simple Flying has reached out to JetBlue for an update, and we will update this article with any response.
Similar scenes and limp responses have been seen in the UK at major hubs, including Heathrow, Gatwick, and Manchester airports.
Airlines and airports have not been prepared for a resurgence in travel and have not ensured trained staff and efficient practices are in place. On three continents, JetBlue, easyJet, and Qantas have addressed the problem by cutting capacity, tumbling more people into the abyss.
Are the deep staffing cuts and loss of experienced staff during the pandemic coming back to haunt the airlines and airports?