Where travel agents earn, learn and save!
News /

Entry process to U.S. needs to be "secure, efficient and welcoming": The latest from IPW 2023
U.S. Travel Association President and CEO Geoff Freeman (Photo courtesy Vanessa Velazquez)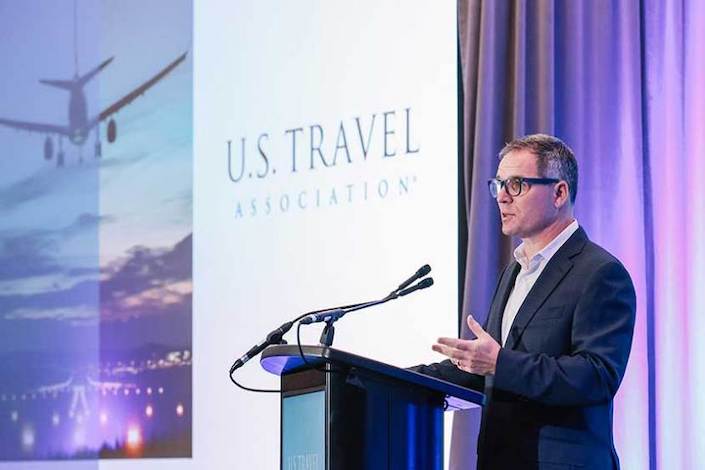 Strong attendance for this year's 54th annual IPW – the largest generator of inbound travel to the United States – underlines the sky-high demand for inbound travel to the country, says U.S. Travel Association President and CEO Geoff Freeman.
"The thousands of attendees we welcomed this week is indicative of the strong demand we are seeing for inbound travel to the U.S.," said U.S. Travel Association President and CEO Geoff Freeman.
Nearly 5,000 attendees from more than 60 countries are in San Antonio this week, at the Henry B. González Convention Center, for 90,000 scheduled business appointments between U.S. travel professionals, and international tour operators, buyers and wholesalers from around the world.
At a press conference, Freeman – in his first IPW since joining in September 2022 to lead the association – highlighted U.S. Travel's efforts to address barriers restricting international inbound travel growth, while also highlighting opportunities to enhance the sector.
"At U.S. Travel our mission is quite simple: it's to grow travel to and within the United States. I've seen first-hand the important role IPW plays in this," said Freeman.
Noting that there is "so much competition for global travel today", Freeman said that Biden administration has set an ambitious goal of welcoming 90 million international visitors and US$280 billion in international spending annually by 2027.
"To meet this goal, we need to be laser-focused on removing barriers to international travel. And we need to be more urgent, more aggressive and more intentional than we've been in the past," said Freeman.
He added: "It took far too long to get our borders reopened. And it was only days ago that the vaccination requirement was lifted for inbound travellers. These barriers send the wrong message to the world. We want travellers to choose the United States, and we want them to know that we want their business."
As noted in the first recap of IPW 2023 yesterday, the final COVID-era barrier to visiting the U.S. – the COVID-19 vaccination requirement for international inbound travellers, and at the Canada-U.S. border – ended effective May 12.
"As a country, we need to stay competitive; to see around the corners and anticipate challenges that weren't on our radar five or 10 years ago," said Freeman. "We need to be constantly evolving to meet new demands and to ensure our entry process is not only secure, but simple, efficient and welcoming."
He outlined four ways how the U.S. federal government can improve and increase inbound travel from key international markets …
Lowering visitor visa interview wait times, which average more than 500 days in the top 10 visa-requiring markets worldwide (excluding China, which has yet to fully resume outbound flights) for first-time applicants. Current average wait times are 527 days in Brazil, 406 days in India and 647 days in Mexico. "Simply unacceptable," said Freeman, adding that U.S. Travel has launched an initiative called 'They Wait, We Lose' to draw attention to the problem, with a website, usvisadelays.com.
Addressing entry delays at U.S. Customs. Last month, international visitors at top U.S. airports frequently experienced average wait times of more than an hour. "We are 1,700 CBP (U.S. Customs and Border Protection) officers short of where we need to be," said Freeman. He also called for more pre-clearance programs in airports around the world, like those already in place at more than half a dozen major airports across Canada.
Improving the air travel experience through a 10-year strategic vision. "There needs to be an air travel system that is welcoming, and efficient," said Freeman. And the air travel experience needs to be "seamless, secure and modern." Proposed ways to get there include expanding Trusted Traveler Programs participation, increasing biometric technology to expedite airport processes, and doubling the list of pre-clearance locations around the world.
Increasing competitiveness in the global travel market. "We see what other countries are doing to attract travellers. And clearly the U.S. must do the same," said Freeman. "A national travel strategy is crucial. We've made a lot of progress building back international travel … but there is so much potential to build this sector back. We must remain fiercely competitive in an ever-more competitive environment."
Brand USA, back as premier sponsor of IPW, recently launched a marketing campaign across 10 key markets.
A high-energy River Parade on San Antonio's River Walk opened this year's IPW. The event closes tonight with an event at The Alamo. This is the first time San Antonio has hosted IPW, and the first time a Texas city has hosted the event since 2000 in Dallas.
Next year's IPW, the 55th annual, will take place May 3-7, 2024, in Los Angeles. And since big events like IPW are planned years in advance, it's worth noting that the 56th annual IPW is currently scheduled to take place in Chicago June 27 – July 1, 2025.