Where travel agents earn, learn and save!
Fall / Winter 2023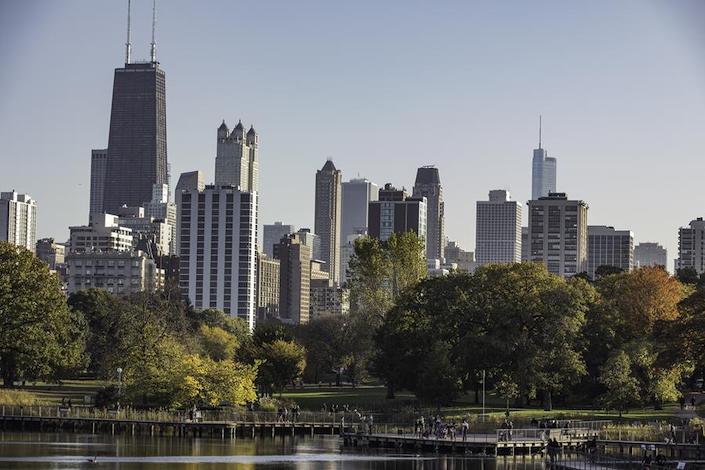 Choose Chicago is delighted to announce that Chicago has been selected to host the Democratic National Convention in August 2024.
Following last year's historic sixth consecutive win as Conde Nast Traveler's "Best Big City," the below tally of exciting new hotels, inventive restaurants, dynamic exhibitions, and eclectic festivals offers just a taste of what's in store this fall and winter season.
To explore Chicago's culture, Midwestern hospitality, and urban adventure, visit ChooseChicago.com for more information.
Accommodations
As the only property with doors that open right out onto Chicago's iconic Magnificent Mile, the InterContinental Chicago is entering its most noteworthy chapter yet. The hotel will undergo a series of  renovations, including the Grand Tower guest rooms and more. The reimagined guest rooms will offer an elevated room with modern  takes on hotel amenities and whimsical design touches inspired by the building's almost 100 years of history.
The Neighborhood Hotel in Little Italy is set to open in September 2023. The 35 rooms range from studios to two bedrooms and provide travellers with a well-equipped, well-designed basecamp to inspire city exploration. There is already a location in Lincoln Park, and another outpost will open in Fulton Market in 2025.
The St. Regis Chicago opened its doors in June 2023 as the 50th St. Regis globally. The 101-story St. Regis Chicago, designed by award-winning architect Jeanne Gang, has changed Chicago's iconic skyline. It is now the third tallest building in Chicago, the 10th tallest in the United States, and the tallest building in the world designed by a female. (Neighbourhood: The Loop)
Food + Libations
Food News:
Chicago Brew Pass, a new initiative to promote exploration of Chicago's award-winning craft brewery scene, launched in August 2023. Using Brew Pass, the first-ever digital pass of its kind in Chicago, locals and visitors can check in at breweries across the city and earn points that can be redeemed for fun, limited-edition prizes. Participants can use the Brew Pass to explore over 20 participating craft breweries at their own pace and start earning rewards, one pint at a time.
The Peninsula Chicago: Sushi POP! is a nine-week pop-up dinner concept featuring handmade sushi and Japanese specialties created from the restaurant's Sushi Bar commencing in The Lobby restaurant at 108 E. Superior Street on Friday and Saturday evenings from September 22 through November 18, 2023. (Neighbourhood: Magnificent Mile)
Newly Open:
Château Carbide on the rooftop of the Pendry Chicago, an indoor-outdoor al fresco destination overlooking the city, was reimagined as an absinthe bar in June 2023. (Neighbourhood: The Loop)
A fine dining restaurant featuring Chicago's first Persian tasting menu, Maman Zari, opened its doors at 4639 N. Kedzie Avenue in July 2023. (Neighbourhood: Albany Park)
International restaurant group Bonhomme Hospitality opened Kashmir, an escapist nightlife experience located at 1436 W. Randolph Street, in June 2023. Guests can enjoy cocktails like the yuzu margarita (anejo tequila, fortified wine) and Space Cowboy (tequila, coconut, rectified pineapple). (Neighbourhood: West Loop)
SOMOS Hospitality is pleased to reveal UMMO, a contemporary Italian restaurant and social lounge in the heart of River North at 22 W. Hubbard St. Dinner service began in August 2023, with Chef/Partner José Sosa presenting a contemporary Italian menu unlocking the flavors of regional cooking in an artfully imagined space designed by Karen Herold of Studio K Creative. (Neighbourhood: River North)
Opening Soon:
The Dearborn, Chicago's iconic Loop destination spot known for its world-class culinary program and exceptional hospitality, will open its second location at Chicago's O'Hare International Airport Terminal 5 in 2024.
Exhibitions (Immersive Art + Museums)
American Writers Museum has announced that its exhibit, Dark Testament: A Century of Black Writers, will be extended through Winter 2024. This immersive exhibit explores racial injustice in America through the work of Black American writers from the end of the Civil War through the Civil Rights Movement. (Neighbourhood: The Loop)
The Art Institute of Chicago has a full slate of fall/winter programming including the following: (Neighbourhood: The Loop) Remedios Varo: Science Fictions (through November 27, 2023) - More than 60 paintings and drawings by the Spanish-born, Mexico City-based artist; Dan Friedman: Stay Radical (September 2, 2023 - February 4, 2024) - The first museum retrospective focused on the extraordinary and under recognized career of American designer Dan Friedman; Among Friends and Rivals: Caravaggio in Rome (September 8 - December 31, 2023) - Two rarely loaned paintings by Caravaggio join works by his devoted followers in this intimate exhibition; Camille Claudel (October 7, 2023 – February 19, 2024) - The trailblazing French sculptor Camille Claudel defied the social expectations of her time to pursue original and powerful explorations of the human form; Picasso: Drawing from Life (November 11, 2023 - April 8, 2024) - Tracing over 60 years, this selection of prints and drawings highlights the relationships that were integral to Picasso's career; Canova: Sketching in Clay (November 19, 2023 - March 18, 2024) focuses on Italian sculptor Antonio Canova's lesser-known but unforgettable work in clay.
Chicago History Museum's exhibition City on Fire: Chicago 1871 (until October 2024) is designed for families to learn, explore, and discover the impact the Great Chicago Fire had on the city and the people who lived there. Remembering Dr. King: 1929–1968 (until January 15, 2024) invites visitors to walk through a winding gallery that features over 25 photographs depicting key moments in Dr. King's work and the Civil Rights Movement, with a special focus on his time in Chicago. (Neighbourhood: Lincoln Park)
Museum of Illusions Chicago will re-open in late Fall 2023 after a temporary closure for construction. The location is expanding to bring visitors over 30 per cent more exhibit space with over 20 brand new exhibits. (Neighbourhood: The Loop)
Festivals + Events
Chicago Beer Festival (October 7, 2023) - The Chicago Beer Festival will take over the Field Museum on October 7 from 7pm to 11pm. The event will feature over 65 breweries, sampling their fall seasonal beers. (Neighbourhood: South Loop / Museum Campus)
Chicago Exhibition Weekend (September 29 - October 1, 2023) - Over 55 galleries, institutions, and artist-run spaces are aligning to present a weekend of exhibition openings, activations, and events this fall, showcasing art throughout Chicago's many neighbourhoods for the inaugural Chicago Exhibition Weekend (CXW). The landmark weekend is co-presented by EXPO CHICAGO, the International Exposition of Contemporary and Modern Art, and Chicago-based cultural agency Gertie. (Multiple Neighbourhoods)
Chicago Gourmet (September 21-24, 2023) - Chicago Gourmet's four-day food-filled lineup on the Harris Theater rooftop at Millennium Park includes Tacos & Tequila, hosted by Chef Rick Bayless; the fan favourite Hamburger Hop, hosted by Chef Stephanie Izard; the exquisite Grand Cru; and Prost! In The Park, Oktoberfest hosted by Chef Sarah Grueneberg. (Neighbourhood: The Loop)
The 59th Chicago International Film Festival (October 11-22, 2023) - With more than 90 features and 60 short films from around the world, ranging from moving, life-affirming dramas to eye-opening documentaries to midnight shockers, dive into this year's program to find your next favourite. (Neighbourhood: Streeterville)
Chicago Marathon (October 8, 2023) - Running the Bank of America Chicago Marathon is the pinnacle of achievement for elite athletes and everyday runners alike. On race day, runners will set out to accomplish a personal dream by reaching the finish line in Grant Park. (Neighbourhood: The Loop)
Jack's Pumpkin Pop-Up (September 21-November 3, 2023) - Billed as downtown Chicago's largest fall and Halloween festival, Jack's is an over-the-top pop-up that includes a giant corn maze, carnival games, photo opportunities, axe throwing, bars, food trucks, and tons of pumpkins. (Neighbourhood: Goose Island)
Oktoberfest (September 22-24, 2023) - One of Chicago's most popular celebrations returns for its 20th year. The event takes place both in and outside the iconic St. Alphonsus church. (Neighbourhood: West Lakeview)
Attractions
ART on THE MART (September 14 - November 15, 2023), an innovative digital art project that transforms a Chicago architectural landmark into a larger-than-life canvas, celebrates its fifth anniversary this fall. The 2023 fall programming will feature a new commission by the acclaimed Dr. Yiyun Kang, esteemed in the field of projection mapping and immersive art, and the return of the popular projection by the renowned Charles Atlas. (Neighbourhood: The Loop)
Chicago Architecture Center Open House (October 14-15, 2023), hosted by the Chicago Architecture Center each fall, is a free public festival that offers self-guided history and architecture trails throughout Chicago; talks and programming; and access to architecturally, historically, and culturally significant sites across the city. (Multiple Neighbourhoods)
To further enhance accessibility for guests, the Chicago Architecture Center (CAC) River Cruise aboard Chicago's First Lady will provide complimentary language translation services for the first time. Guests will have the opportunity to listen to a pre-recorded tour narration on their smartphone in four different languages, including Spanish, French, Japanese, and Korean. The translation service is accessible by downloading a free app that connects directly to a special wi-fi network onboard.
The 50th Annual Historic Pullman House Tour (October 7-8, 2023) gives visitors the opportunity to explore the rich history of the Pullman neighbourhood, including exclusive interior access to some of the most iconic and well-preserved homes in the area. (Neighbourhood: Pullman)
Inside Chicago Walking Tours, ranked #1 of 386 Tours and Activities in Chicago on TripAdvisor, has introduced new tour routes: All That Glam: Chicago's Art Deco Masterpieces (Neighbourhood: The Loop); Haunted by Our Dark Side: Death, Depravity, and Dark Tourism in Chicago (Neighbourhood: Magnificent Mile); and The Christmas Tree Crawl: The Magic of Chicago at the Holidays.
The Wintrust Magnificent Mile Lights Festival (November 18, 2023) is a day-through-night, mile-long extravaganza drawing more than one million celebrants. Its centerpiece is the largest nighttime parade in the U.S. — a spectacular parade down Michigan Avenue. Led by Mickey Mouse and Minnie Mouse of The Walt Disney World Resort, the parade features fabulous floats, giant helium balloons, marching bands, celebrities, musical performances, Santa Claus, fireworks, and more — illuminating one million lights on The Avenue's 200+ trees. (Neighbourhood: Magnificent Mile)
Navy Pier has a full schedule of events planned for fall and winter (Neighbourhood: Streeterville): Chicago Live! (September 23-24, 2023); Chicago Shakespeare Theater presents The Walk with Little Amal (September 28, 2023); Free Family Days with Chicago Children's Museum - Puppet-palooza! (September 28, 2023); Sequence Ch!cago (October 7, 14, 21, November 4, 11, 18, and 25, 2023); Slow&Low: Chicago Lowrider Festival (October 21, 2023); Free Family Days with Chicago Children's Museum (October 26, 2023); Slightly Spooky Saturday (October 28, 2023); Housegiving (November 22, 2023); Winter Fireworks (November 25, December 2, 9, 16, and 23, 2023); EXCISION Live at Navy Pier (December 22, 2023); and New Year's Eve Fireworks (December 31, 2023).
Shedd Aquarium is expanding and restoring its facility to provide new galleries and experiences for the community. While undergoing renovations, a number of activities and exhibits will continue to be available for guests of all ages (Neighbourhood: South Loop): Ritmo del Mar (October 7, 2023); Plankton Revealed; Asleep with the Fishes (December 16, 2023); and ZooLights at Lincoln Park Zoo (November 17, 2023 - January 7, 2024).
Meetings, Conventions + Venues
Chicago has been chosen to host the Democratic National Convention next year, which will take place August 19 - 22, 2024, at the United Center.
Chicago has been selected as the host city for U.S. Travel Association's IPW in 2025. The last time Chicago hosted the leading inbound travel trade show was in 2014. The conference will be held June 27 - July 1, 2025, at McCormick Place.
Theatre + Performing Arts ARTS
Broadway In Chicago is proud to produce the following shows as part of its fall roster: The Lehman Trilogy (playing September 19 - October 29, 2023, at the Broadway Playhouse), winner of the 2022 Tony Award for Best Play; A Wonderful World (playing October 11-29, 2023, at the Broadway Playhouse Cadillac Palace Theatre) - A Broadway bound new musical about jazz legend and singular American icon Louis Armstrong, starring Tony Award® winner James Monroe Iglehart; Company (playing October 31 - November 12, 2023, at the Broadway Playhouse Cadillac Palace Theatre), winner of 5 Tony Awards including Best Revival of a Musical; Beetlejuice (playing November 7-19, 2023, at the Auditorium Theatre); BOOP! The Musical (playing November 19, 2023 - December 31, 2023, at the CIBC Theatre); and The Wiz (a pre-Broadway Chicago premiere playing November 28 - December 10, 2023, at the Broadway Playhouse Cadillac Palace Theatre).
Chicago Shakespeare Theater will present the following performances: Twelfth Night (October 25 - November 26, 2023) at the Courtyard Theater; and Islander, a co-production from Scotland that is part of Chicago Shakespeare's WorldStage Series.
Goodman Theatre has announced a new partnership with Dennis Watkins, award-winning third-generation magician and mind-reader, and Petterino's restaurant. Chicago's longest-running magic show, The Magic Parlour, takes residence adjacent to the Goodman at 50 W. Randolph. The move builds on Watkins' 15-year success, thrilling 50,000+ guests during 1,600 live performances and hundreds of corporate events. Performances begin October 5, 2023. (Neighbourhood: The Loop)
The Joffrey Ballet is pleased to present Frankenstein October 12-22, 2023, at the Lyric Opera House.
Lyric Opera of Chicago is proud to welcome the following performances this fall: The Flying Dutchman (September 23 - October 7, 2023) An Evening with Audra McDonald (October 6, 2023); The Daughter of the Regiment (November 4-25, 2023); and Janáček's Jenůfa (November 12-26, 2023).
Sports
After a historic inaugural race in July 2023, NASCAR Chicago Street Race will return to downtown Chicago in Summer 2024.
For more ways to discover Chicago's culture, Midwestern hospitality, and urban adventure, visit ChooseChicago.com for more information.
Latest Travel & Selling Tips