Where travel agents earn, learn and save!
Travel & Selling Tips /

What to know before traveling to Croatia in 2023
Get your suitcases at the ready and your passports on hand as we get you prepared for the ultimate vacation to Croatia in 2023!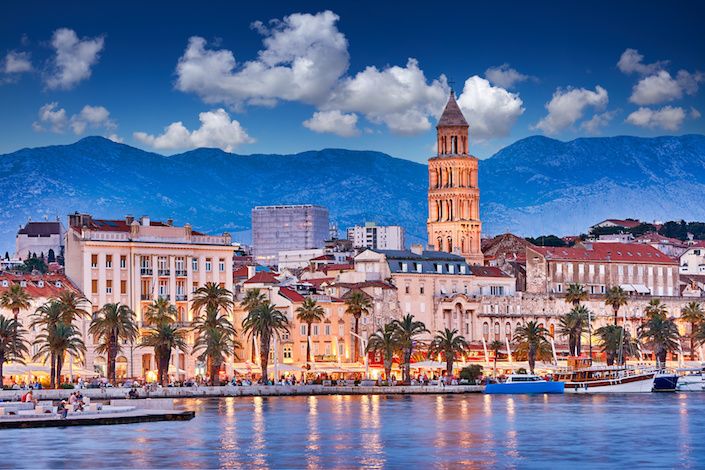 We're at the start of a new year with a bunch of available vacation days ahead of us to use. And what better way to use that time off than by taking a relaxing vacation to Croatia?
Croatia has everything for all kinds of tourists to enjoy, from beautiful Mediterranean weather and crystal clear oceans that are perfect for lazing beside to diverse landscapes that are just waiting to be explored.
With so much variety in this small European nation, it can be a struggle to fit everything into your tour itinerary. So prepare yourself accordingly and create the perfect vacation by understanding the things to know before traveling to Croatia…(this includes the things to avoid in Croatia on your travels this year).
Get your suitcases at the ready and your passports on hand as Adventures Croatia gets you prepared for the ultimate vacation to Croatia in 2023!
The new year brings a new currency
2023 is a historic year for Croatia as it has seen a change in its national currency. As of January 1st, Croatia officially moved from the Croatian Kuna over to the more widely established Euro. So why has this happened? Croatia became the 27th nation to join Europe's passport-free Schengen zone and an official member of the European Nations.
Although having actually joined 10 years prior, with Croatia officially adopting the Euro as its currency, there have been some huge resulting changes within the country. Including a number of border checkpoints being removed around Croatia's bordering EU countries.
This means that US tourists traveling to Croatia this year can expect freedom to move between bordering countries without the need to obtain new visas or bring a different form of currency with them.
One of the biggest things to avoid during your travels to Croatia is bringing the old Croatian Kuna as your spending money. The likelihood of finding a currency exchange company that still supplies the Kuna may be slim, but it is not entirely impossible. This is not to say you can't spend the old currency in Croatia.
Kuna banknotes can be exchanged indefinitely, whilst Kuna coins and lipa will have a 3-year window before the coins are unusable. To ensure you do not run into any issues on your travels, Adventures Croatia advises that you prepare the correct currency in advance.
Booking early will be your savior
By organizing your trip earlier in the year, you will be able to find the best prices on tours and accommodation throughout Croatia. Especially in the tourist hotspot areas such as Dubrovnik, Split, Zagreb and more which are known to be a bit pricier than the lesser known towns and cities.
The closer it gets to peak tourist times in Croatia (mid-June until mid-September) prices will continue to rise on the most popular hotels, villas, excursions and tours with these getting booked up fairly quickly.
January is the best time to book a trip to Croatia. Use this chance to book early and save money on your trip whilst you have the best selection of places to stay, private charters and tours. Don't miss out on the trip of a lifetime by waiting around for too long to book your vacation.
Booking a last minute long-distance trip can be a stressful experience for any traveler. With the need to find spaces on long-haul flights that have available seats and times which match your vacation needs, as well as good accommodation in the places you want to visit can be incredibly difficult. Especially if you're looking during the peak season.
In any case, whether it is booking in advance or last minute, Adventures Croatia would always advise you to use a travel guide to help you organize your trip to Croatia to ensure it is the best experience for you.
By booking pre-planned tours to Croatia or customizing an itinerary with a travel agent such as Adventures Croatia, Adventures Croatia can help you cut this planning time right down, relieving you of that unnecessary pre-vacation stress.
Traveling for big events
Croatia is known for hosting a lot of interesting events and fun festivities throughout the year which draw thousands of tourists into the country every year. It is good to have a note of the dates on which these festivals take place to ensure your tour dates align. You wouldn't want to miss out on some of these incredible events.
Here are Adventures Croatia top recommendations for 2023:
The Festival of Oysters in Ston – March 21, 2023
Dubrovnik Summer Festival – July 10, 2023 – Friday, August 25, 2023
Split Summer Festival – July 14, 2023 – Monday, August 14, 2023
Zagreb Film Festival – October/November, 2023
Day of Truffles in Istria – mid-September until the end of November
Advent in Zagreb (Christmas Market) – TBA, however in previous years it has run from mid-November until early January
Rijeka Carnival 2023 – January 17, 2023 – Wednesday, February 22, 2023
For tourists seeking a quieter experience whilst visiting the scenic sites and historic cities of Croatia, Adventures Croatia would recommend you avoid booking your vacation around festival dates.
If you want a more relaxed vacation when visiting the tourist hotspots, try to book your vacation at least a week before and after the festivals to experience a version of Croatia that is suited to you.
Accommodations and tours get sold out quickly during festivals due to the events' popularity.
The shoulder season in Croatia
Knowing what you want to get out of your vacation to Croatia is a good place to start when considering when to travel, as the seasons bring different benefits for different tourists. There is no bad time to travel to Croatia. However, the best time to travel to Croatia mainly depends on the traveler's preference.
If you're looking for warm, sunny weather, anytime between May and September is a good time to visit. Of this period, July and August are the hottest months with temperatures averaging in the 80s and 90s. This season is the best for tourists looking to relax, explore Croatia's exquisite coastline, partake in watersports and swim in the cooling Adriatic Sea.
Due to the higher temperatures, these months are very popular times to travel. During this time you should expect more crowds, however, the benefits definitely outweigh the negatives. Nothing beats the Croatian sunshine. And certain tourist attractions, accommodations and restaurants are only open during the summer peak times.
Springtime in Croatia is magnificent. It's the season of new life when we see Croatia's National Parks bloom with fragrant flowers and vibrant leaves across the expansive foliage. The weather is warm and pleasant and may be considered more comfortable than the hotter months of peak summertime. This makes it ideal if you are hoping to do more energetic activities, such as hiking.
Alternatively, the colder months can show a different side to Croatia. Inland you will find snow-covered towns, frozen lakes and glistening waterfalls throughout the islands and national parks. Tourists can enjoy spending time at ski resorts and partaking in fun wintertime activities including sledging or ice skating. If you decide to travel closer to Christmas, you are in for a treat. Croatia has one of the best Christmas markets in Europe, Advent in Zagreb, which you absolutely cannot miss!
Getting around Croatia
It is fairly easy to travel around mainland Croatia. With the opening of the Pelješac Bridge last year, which connects the north and south (without the need to drive through Bosnia and Herzegovina), traveling became even easier by car. Renting a car is one of the most comfortable ways to explore the inland parts of Croatia. But if you're looking to venture out to some of the islands around the coastline, Adventures Croatia recommends traveling by private yacht.
Booking a private yacht is quite straightforward and an undeniably amazing opportunity to explore Croatia in the most luxurious manner. When booking a private yacht with Adventures Croatia, not only will you have the chance to see locations of your choosing, but you'll also have continuous access to the boat throughout your trip.
With a personal captain and a private chef onboard, travel doesn't get more opulent than being served meals tailored to satisfy your palette as you sail across the crystal-clear waters of the Adriatic Sea.
Public transportation is known to be quite efficient in Croatia, but solely relying on it for travel can be a little difficult. Especially as delays and cancellations can easily sour an otherwise incredible trip.
Many ferry routes only operate during the high season, meaning you will need to meticulously plan your vacation around the ferries' schedules. It is also not guaranteed they will go to all of the locations you wish to visit, as some islands are not accessible by public transportation or connected by bridges to the mainland.
To avoid disappointment, Adventures Croatia recommends booking a pre-planned tour to Croatia, with transportation included to ensure a relaxing vacation and make planning your vacation a whole lot easier, as Adventures Croatia would do all the hard work for you.
Entry into Croatia
One of the most important things to prepare in advance is the required travel documents for entry into Croatia. For US citizens, a visa is not required to enter the country as Croatia is a member of the Schengen area. It is possible to stay up to 90 days for tourism or business during any 180-day period. If you intend to stay longer than this, you will be required to apply for a visa.
However, if you do intend to travel outside of the Schengen area, you may be required to obtain a visa prior. Always double-check if the country you are planning on traveling to requires a visa beforehand here.
As of May 2022, Croatia removed all COVID-19-related entry requirements for US citizens. This means US travelers can visit Croatia without the need to take a Covid-19 test prior to travel or show proof of a negative Covid test or vaccine certificate to enter. There are currently no requirements to quarantine before or after landing in Croatia.
Please be aware that things can change due to certain circumstances. Always double-check Croatia International Travel Information on the State Government's website to ensure that you are up-to-date with the latest travel information.
To ensure you are eligible for entry into Croatia you must have:
A valid U.S. passport to enter Croatia – EU regulations require that U.S. passport holders have at least three months of validity on their passport from the date of departure from Croatia.
A free stamp page in your passport – Only one page is required for an entry stamp in and out of Croatia.
Money – There are restrictions on how much money you can bring in and out of Croatia. The limit is currently set at up to 10,000 euros either way.
Latest Travel & Selling Tips