Where travel agents earn, learn and save!
Travel & Selling Tips /

Sustainable Travel Bucket List: 10 of the best Eco-conscious Hiltons around the world
Explore the best eco-conscious Hiltons properties around the world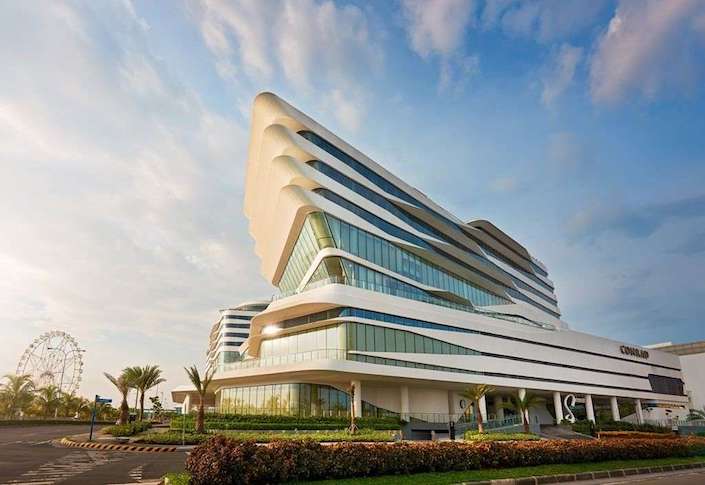 Thinking about booking your next trip? Not sure where to go first internationally? Well, environmental experts at Hilton have shared a few of their favorite properties for you in celebration of #EarthDay.
Whether you're an eco-friendly traveler or just looking to stay at a unique property that is sustainable and making a positive impact in their local community, consider these 10 properties on your travel bucket list.
As one of the world's largest hotel companies, Hilton recognizes that they have a critical responsibility to protect our communities and our planet, so the destinations where Hilton operates can remain vibrant and resilient for generations of travelers to come.
Travel with Purpose is Hilton's Environmental, Social and Governance (ESG) strategy to drive responsible travel and tourism globally. Through this strategy, Hilton has committed to double their investment in social impact and cut their environmental impact in half by 2030.
Hilton hopes that you join them at one of their properties and #TravelwithPurpose on your next adventure!
Conrad Washington DC
Located in downtown Washington, D.C., Conrad Washington DC is a contemporary urban oasis that embeds sustainability into the heart of its hotel operations. In an effort to reduce the burden on the city's stormwater infrastructure and improve water quality, the hotel features an onsite stormwater management system where it is able to capture 97 percent of rainfall and use it to irrigate the hotel's outdoor terraces and to cool its air conditioning towers. From a food and beverage perspective, in addition to integrating food waste training into the hotel's kitchen operations, the hotel has launched a new rooftop concept at Summit the Rooftop at Conrad, which features a subtly progressive vibe, driven by an eco-friendly and socially conscious approach to food and drink. The new concept places an emphasis on supporting community partners through local sourcing throughout the mid-Atlantic region along with support of local and regional distillers and brewers and female winemakers. In addition to cooking select menu items in a solar oven, guests staying at the property can indulge in cocktails with garnishes from the rooftop garden in partnership with the Up Top Acres urban farming group.
Hilton New Orleans Riverside
Think of New Orleans and it is all about the food and entertainment scene as well as preserving and enriching the Big Easy's famous culture.  Part of that includes not only creating a future that is exciting for those that visit — but one that enhances the sustainability of the environment in which we all live. At Hilton New Orleans Riverside, living sustainably is imperative to the hotel's business and a cornerstone of the team's commitment to guests, partners and the community. In partnership with the Coalition to Restore Coastal Louisiana, for the last five years, Hilton New Orleans Riverside and Drago's restaurant have participated in the largest shell recycling program in the nation by providing over 700 tons of oyster shells to help rebuild reefs in the Gulf of Mexico. Diverting tons of oyster shells from landfills, the recycling program has reclaimed over one million pounds of oyster shells, while the oyster reefs help improve water quality, provide an ideal fishing habitat, support the local economy and drive positive change in the community.
Waldorf Astoria Los Cabos Pedregal
Accessible via Mexico's only privately owned tunnel, this luxury hideaway is an eco-conscious traveler's dream escape off of the Baja California Peninsula. Nestled into a rocky cliffside offering cerulean views of the Pacific, the resort's authentic architecture and landscape truly reflects the spirit of Cabo San Lucas by utilizing a number of native desert plants, which require minimal watering, including the Bird of Paradise, Agave Variegata and Pitahaya, among others. Home to several plunge pools, the hotel uses high-efficiency variable speed pumps, electrical heaters and gas heaters to help reduce energy by up to 50%. In an effort to also reduce energy use, each of the guest room doors automatically shuts off the cold-water valve when the guest leaves the door ajar, helping to also minimize condensation. Water and electricity consumption have also been greatly reduced with the hotel's larger capacity machines for laundry enabling housekeeping to run fewer loads of laundry per day. The hotel's on-site restaurant, El Farallon, offers an ocean-to-table menu featuring daily bounty from local fishermen, with the culinary team practicing sustainable fishing by using fish from certified farms and fish providers for mahi mahi and more.
Hilton Garden Inn Faroe Islands
When guests visit the new Hilton Garden Inn on the remote Faroe Islands, it feels almost otherworldly. But what's behind the scenes is just as impressive: The entire property was built with sustainability at its core, embracing the archipelago's own sustainable tourism strategy. The hotel's commitment to sustainability starts from the top: the roof is covered in grass, allowing for ultra-efficient insulation and a building that seamlessly blends into the local environment. Inside, ultra-efficient heating systems, including under-floor heating, help keep guests warm and take into account occupancy levels to avoid heating unused spaces. Motion sensors on water taps and LED lighting further prevent energy waste. The hotel is powered by renewable energy from a local power plant that captures leftover energy from a range of industries.
Rome Cavalieri, A Waldorf Astoria Hotel
The team at Rome Cavalieri, A Waldorf Astoria Hotel is dedicated to providing guests with exceptional experiences that are both luxurious and sustainable. From high energy efficiency and excellent waste management, providing support fordisadvantaged communities, the team's holistic approach led to the hotel becoming the first in Rome to achieve the prestigious Green Key certification. To reduce food waste, the hotel partners with local nonprofit Equoevento to supply leftover bread to a local brewery, Birrificio Vale la Pena, which employs prisoners as part of a work release program. The brewery uses the waste to create its own beer, which is then sold at the hotel. Elsewhere, engineers reduced water consumption by 20% over three years through a range of measures including optimizing the property's irrigation schedule and swimming pool water consumption andredeveloping the property's evaporative tower system.
Hilton London Bankside
Located in the heart of London's lively Bankside district, Hilton London Bankside is passionate about supporting its local community. The hotel features a rooftop meadow, built to reintegrate greenery into the surrounding landscape, and home to several beehives, installed to help to re-energize the city's diminishing bee population. The honey is served as part of its breakfast offering, alongside dishes made using locally sourced ingredients. Conscious of the growing demand for plant-based living, the hotel also boasts the world's first completely vegan suite, providing a unique experience for ethically conscious travelers. For visitors looking to get out and explore the city, Hilton London Bankside encourages its guests to make use of the hotel's ultra-sustainable volcanic bikes for free during their stay.
Hilton Garden Inn Dubai Mall of the Emirates
Located close to Dubai's most famous shopping mall, Hilton Garden Inn Dubai Mall of the Emirates has operated with sustainability at its heart since it first opened in 2015. Recently, in recognition of its continued commitment to environmental stewardship, the hotel was upgraded to LEED Platinum certification – a prestigious, internationally recognised standard for green buildings. Behind the scenes, the hotel's grey water recycling system has been significantly reducing water consumption and helping to combat Dubai's water scarcity issue since the hotel first opened. Solar thermal panels take advantage of the sunny climes to provide renewable energy for the hotel, whilst intelligent software helps the property's engineers to ensure the hotel runs as efficiently as possible at all times, adapting energy consumption in line with occupancy levels and guest demand.
Conrad Manila
A luxury haven inspired by the Manila Bay, Conrad Manila boasts a celebrated art program that aims to promote art beyond its decorative function. The hotel features an expansive collection of 736 art pieces by respected contemporary local artists that fosters an interactive appreciation of the Philippines – its community, culture and historical heritage, whilst promoting sustainability and environmental protection. As part of a multi-use LEED Gold certified building, the hotel's guest rooms are outfitted with occupancy sensors that control both lighting and cooling functions, and dual-flushing and low-flow plumbing among other irrigation fixtures to control water usage. Conrad Manila is also committed to supporting the community through quarterly meal packing events with Rise Against Hunger, recycling soap through the 'Soap for Hope' program, and various food banking initiatives.
Hilton Bali Resort
Hilton properties around the world are taking steps to invest in their local communities, including through local sourcing. The Hilton Bali Resort Food & Beverage team started a "Know Thy Neighbor" project to work with more local area vendors and producers to provide more of the hotel's food and beverage offerings while supporting small local enterprises and ensuring sustainable growth. Guests can take home a collection of organic salts from the island, sip tea with honey from local farmers, snack on organic fruit and eat sustainably caught seafood purchased nearby. As part of the program, even some of the restaurant's chinaware was specially co-designed by the chefs, local designers and craftsmen.
Hilton Brisbane
Located in the heart of Brisbane's central business district, Hilton Brisbane's creative environmental initiatives include over 23 waste streams and community partnerships. These range from recycling soap through Soap Aid, oral care items and other single-use plastics through TerraCycle, single-use coffee cups through Closed Loop and single-use containers through Envirobank. Their container recycling with Envirobank is part of the Queensland Government's Containers for Change program. The hotel diverts up to 10,000 items a month from landfills and is able to fund environmental and social justice projects with the funds generated. Hilton Brisbane is also home to five beehives (250,000 pollinators) that produce 500 kilograms of honey a year. This honey is used in the hotel's kitchens, and as gifts for guests and clients. In addition to beehives on the roof, the hotel also has a kitchen garden.
---
More Travel & Selling Tips:
Palmaia – The House of AiA presents the Architects of Life program
Your Guide To Getting Back On Track from Exodus Travels
G Adventures' selling tools at your fingertips
Travel with Confidence to AMResorts properties!
Latest Travel & Selling Tips