Where travel agents earn, learn and save!
Travel & Selling Tips /

5 Selling Tips for Alohilani Resort Waikiki Beach
Learn how to sell Alohilani Resort Waikiki Beach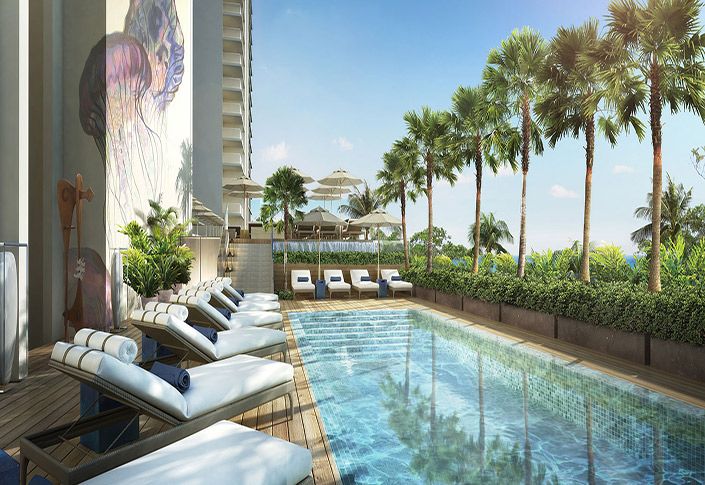 Your Hawaii loving clients should get ready for Alohilani Resort Waikiki Beach! Nn urban oasis in the heart of Waikiki Beach is opened. Sell this new beautiful property with the help of these 5 selling tips!
5. It's "aloha-chic"
Located just steps from the beach, the resort will boast an "aloha-chic" vibe that deeply honours Hawaii's rich cultural heritage. Its 839 guestrooms and suites and all public spaces were designed by acclaimed NYC design firm Rockwell Group. Guests can already experience the redesigned guestrooms and suites that debuted in the Beachside and Seascape Towers in December 2016.
Suite | Source: Alohilani Resort Waikiki Beach
4. It's Iron Chef-worthy
Foodies will definitely get their fill at the resort's two restaurants. There's even a tropical beer garden from Iron Chef Masaharu Morimoto, allowing guests to pair fine dining with their favourite ales.
Morimoto Asia Bar | Source: Alohilani Resort Waikiki Beach
3. The pool is completely decked out
Upon completion, Alohilani's "destination pool deck" will be worth writing home about for its saltwater infinity pool, outdoor bar, tiered day beds, luxury cabanas, custom teak furnishings, driftwood sculptures and glowing fire pits.
Pool Deck | Source: Alohilani Resort Waikiki Beach
2. It has a giant fish tank
Upon arrival, guests will immediately be wowed by the 280,000-gallon saltwater oceanarium, where more than 1,000 protected marine life and coral reef formations will call home. Also in the lobby will be the ocean-inspired O Bar, retail boutiques and a group arrival lounge. The new lobby experience just debuted in August.
Oceanarium and O Bar | Source: Alohilani Resort Waikiki Beach
1. It's been completely redone
Alohilani is currently undergoing an impressive US$115 million redevelopment from the existing Pacific Beach Hotel. A top-to-bottom renovation includes the exterior façade, all public spaces and 839 rooms and suites.
Alohilani Porte Cochere | Source: Alohilani Resort Waikiki Beach
Latest Travel & Selling Tips