Where travel agents earn, learn and save!
Travel & Selling Tips /

How Sandos Playacar is redefining nightly entertainment
All-inclusive Nightly Entertainment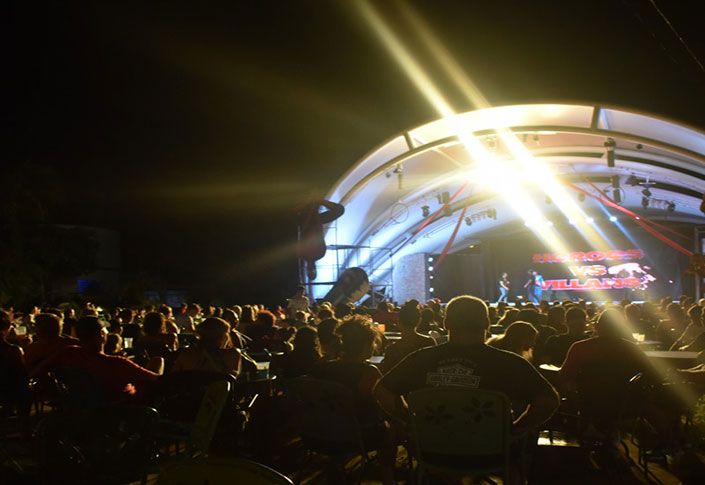 Sandos Playacar is located in the Riviera Maya. It's a hot spot for all-inclusive vacations, and to tell you the truth, it's because all-inclusive resorts are comfortable as well as practical.
Most importantly?
Most travelers seeking a vacation are looking to relax, get away from the routine, and especially, have a good time.
Well, get ready for all of that AND more!
The Nightlife at Sandos Playacar
Sandos Playacar is fortified as one of the most fun, thrilling, and exciting all-inclusive resorts for both adults and kids! Throughout the day, guests can find many fun things to do that are perfect for every age group like fast-paced activities, kids and teen clubs, a mini-golf course, and so much more!
That's not everything though because when the sun sets on the breathtaking Caribbean, the best has yet to come.
Every night guests have the opportunity to enjoy amazing first-class shows under the Caribbean starlight in the impressive Grand Plaza of the hotel. This is a state of the art outdoor theatre, unlike any other all-inclusive hotel.
MONDAY - Fantasy Show
Fun for the whole family, your favorite Disney Characters are also on vacation at Sandos Playacar! Enjoy this incredible Fantasy Show as it brings the entire family together in a magnificent setting full of lights, dance, and music.
The best thing about this show is that even your children can participate and perform in front of you and all the other guests. They can be the stars of the night just by registering at the hotel's Kids Club.Watch as they take the stage as characters like zebras, lions, or princes, or princesses!
TUESDAY: Tribute to Gaga
A blend of Lady Gaga's best songs with incredible music and dancing is what you are bound to enjoy every Tuesday in the Grand Plaza. Enjoy the talented dancer and singer as she is undoubtedly the best when it comes to honing this amazing artist.
WEDNESDAY - Tribute to Shakira
An icon of Latin music, the Shakira Tribute is, without a doubt a fan favorite amongst guests. The mix of music and the projection of colors and shapes quickly takes ahold of guests as the whole family becomes captivated.
Find the perfect seat, order your favorite drink, and before you know it you're dancing and singing, "Whenever, Wherever!"
THURSDAY: Tribute to MDNA
We are all about amazing talent and the biggest voices in the world. We honor Madonna with this spectacular show that will make you sing-along all night from her classic hits to the modern ones that are still breaking it on the radio.
FRIDAY - Heroes: The Parody
Now, we know what you might be thinking,
great another show that's just for kids
.
You couldn't be more wrong!
This Heroes Show is perfect for both kids and adults with its comedy, spectacular pyrotechnics, and an incredible performance! Kids will leave in awe, and the adults may leave feeling a bit nostalgic.
SATURDAY - Michael Jackson Tribute
Imagine this, people from all around the world singing in unison to this absolutely draw-dropping Tribute to the King of Pop!
Join hundreds of more guests as they listen and sing along to his incredible music at the Grand Plaza.
SUNDAY - AC/DC Tribute
We don't want to spoil it for you, but let's just say, you're going to need to lace up your rock shoes for this show! Sandos Playacar musicians are rockers at heart, and this AC/DC Tribute Band will keep you on your toes the whole concert.
Get ready for a fun holiday with unprecedented evening entertainment.
---
Learn more about Sandos Hotels & Resorts:
Sandos Playacar Opens New Oceanfront Snack Bar Restaurant
Sandos Playacar Renovates Its Family and Adults-Only Sections
Sandos Cancun introduces a mouth-watering Vegan menu
How to celebrate Kermes at Sandos Finisterra every week!
Latest Travel & Selling Tips