Where travel agents earn, learn and save!
Travel & Selling Tips /

Sandos Hotels & Resorts shares tips on all-inclusive family travel
Sandos Hotels & Resorts' tips for planning the perfect family trip to an all-inclusive hotel!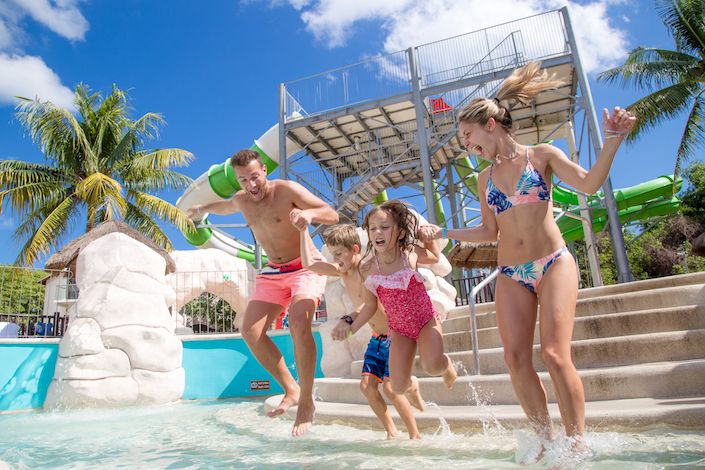 Family trips are one of the best ways to spend time together and create unforgettable memories! However, planning a family trip can be challenging. It's important to choose a destination and accommodation that suits everyone in the family, and make sure there are enough activities and amenities to keep everyone entertained.
One of the best types of hotels for families are those that offer an all-inclusive plan. These offer a variety of activities and amenities for everyone, without the worry of having to pay for each additional activity or service. In addition, all-inclusive hotels usually have dining options for all tastes, as well as spa services and pools to relax.
Below Sandos Hotels & Resorts will share tips for planning the perfect family trip to an all-inclusive hotel. Sandos will give you some tips to know how to choose it, how to make the most of the activities and services, and how to plan ahead to avoid unpleasant surprises. Sandos will also discuss the importance of safety while traveling and how to explore the area around the hotel. Read on for all the best ideas for your next family trip to an all-inclusive resort!
How to choose an all-inclusive hotel for the whole family
When it comes to a family trip, choosing the perfect hotel is crucial. There are several factors to consider to ensure that the hotel meets the needs and preferences of the entire family.
First of all, it is important to consider the location of the hotel. Whether you want to be close to a beach or mountains, close to a city, or prefer somewhere quieter, making sure your hotel is close to the activities and attractions you want to visit is important to ensuring everyone enjoys the trip.
Second, consider the hotel's amenities. See if it has swimming pools, a spa, a gym or a tennis court. It is also important that it offers activities for children and adults, and that it has food and drink options for all tastes. Make sure the hotel has the right amenities for the whole family.
Thirdly, you can consider the opinions of other travelers who have been to the hotel. Reading reviews online can give you valuable information about their strengths, as well as areas where they can improve. In addition, here you can see if it offers good customer service, which will ensure a satisfactory travel experience.
From swimming pools to excursions, pure fun on your family trip
All-inclusive hotels offer a wide variety of activities for the whole family, from swimming pools to excursions to nearby attractions. These activities are a fun way to explore the area and create unforgettable memories with loved ones.
One of the most popular areas in all-inclusive hotels are the swimming pools. Many hotels have outdoor pools where children can play and swim, while adults relax on nearby sun loungers or bars. Some hotels also have covered areas and hot tubs, making them a great option for any weather. In addition, the entertainment program of many hotels offers water activities such as swimming classes, games in the pool or swimming competitions for all ages.
Another popular activity is family outings. These may include visits to nearby tourist attractions, outdoor activities, and guided tours. This is not only a fun way to explore the area, it is also a great opportunity to learn together and make lasting memories.
Sports activities such as tennis, gymnastics, yoga or hiking are also a recurring part of the entertainment programmes, as are children's activities such as art workshops, cooking workshops and group games.
How to take advantage of gastronomy in an all-inclusive hotel
Food is perhaps the most important part of any trip, and all-inclusive hotels offer a wide variety of options to enjoy a great meal during your stay.
Take note of the following tips to fully enjoy food at an all-inclusive hotel:
Explore the hotel's dining options. Many all-inclusive hotels have several restaurants and bars with different culinary options. From local food to international dishes, there is something for everyone. Be sure to research the available options before arriving at the hotel so that you can plan your meals in advance.
Try something new. These hotels offer you the opportunity to try food from different parts of the world. Take this opportunity to try something new and get out of your culinary comfort zone.
Take advantage of the buffets. Buffets are an excellent option to enjoy a wide variety of culinary options in one place.
Spa services for everyone to relax during a family trip
Taking an afternoon dedicated exclusively to relaxation in a spa is always an excellent idea, and if it's with the family, much better. However, so that you do not get lost among the wide range of services and everyone can go out in the clouds, consider the following:
Book in advance: Be sure to book spa services in advance to ensure that you get the times and treatments that work best for you.
Consider family packages: Some hotels offer family spa services, such as couples massages or mother-daughter spa treatments. These options are a great way to spend quality time with loved ones.
Explore the options: Many hotels offer a variety of spa services, including massages, facials, saunas, bubble baths, and whirlpools. Be sure to research all the options before arriving at the hotel so that you can plan your spa sessions in advance.
Make it a recurring family activity: Spa services can be a great way to spend quality family time, whether it's relaxing together in the sauna or enjoying a couple's massage.
With a little planning and research, you can make the most of these services as a family and create unforgettable memories together.
The importance of planning ahead
Do not leave your vacation until the last minute, a lack of planning can lead to unpleasant surprises and unnecessary stress. Especially if you travel with your family, advance planning is one of your best allies.
Here are some tips for planning ahead and avoiding unpleasant surprises:
Get started as soon as possible: It's important to plan your vacation in advance to ensure you get the best prices on hotels and flights. In addition, this allows you to research and compare different accommodation options and activities to find the one that best suits the needs of your family.
Everyone Needs Something Different: When planning your vacation, be sure to consider your family's needs and preferences. For example, if you have young children, it's important to choose a hotel with children's activities and a safe pool.
Book in advance: Once you have chosen the hotel and the activities, make sure to book in advance to avoid availability problems.
Check the cancellation policies: It is important to review the hotel's cancellation policies before booking, so you know how to handle any changes in plans.
In short, choosing the perfect all-inclusive hotel for the family requires careful planning and consideration of several factors. Always take into account factors such as the location, the amenities and the opinions of other travelers. With a little research and planning, you can ensure that your next family trip is one to remember.
Latest Travel & Selling Tips