Where travel agents earn, learn and save!
Travel & Selling Tips /

Palladium Hotel Group: An inside look at TRS Yucatan Hotel
The 454-room all-inclusive and adults-only hotel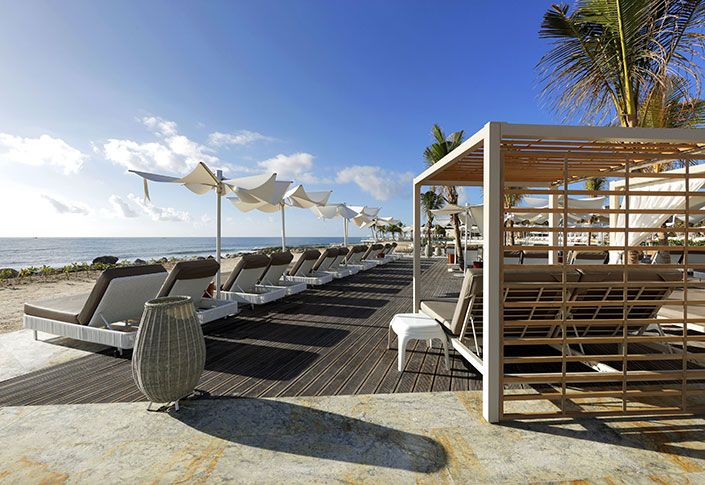 With an ideal location just south of Cancun, Palladium Hotel Group's original TRS Hotel has been gaining repeat customers and word of mouth for its service, contemporary design and unparalleled entertainment. The 454-room all-inclusive and adults-only hotel opened December 1, 2017.
A modern lobby features fashionable seating areas and a three-storey living green wall, the first indication of modern European design seen throughout the resort. Embracing the latest technology, guests are given a discreet black wristband which allows easy room access thanks to embedded chip technology.
Rooms and Suites
TRS rooms include tech amenities like entry and bedside touch pads for the lighting system as well as a touch pad to display either 'do not disturb' or 'housekeeping requested' signage. Suites are contemporary, styled with light wood furniture, warm metal accents and colourful textile accessories, from accent pillows to bedside hanging pendant lights.
L'Occitane amenities, mini-bar with nuts, chocolate, pop, beer and chilled bottled water are complimentary and the property's water filtration system provides safe drinking water.
Main floor suites have plunge pools while romance bungalows are on a lagoon with canoes for couples to paddle the waterway. Third storey corner suites, perfect for honeymooners, are two floors, with a spiral staircase leading to a shaded seating area and a deck with oversized circular lounger, plunge pool and views of the sea.
The lush green spaces surrounding the resort are home to numerous small birds, flamingos, iguanas and agouti (similar to capybaras).
The resort's 24-hour room service can be ordered via the television, while the butler service handles any and all requests from pillow and room scents to dinner reservations and transport for guests (TRS guests have unlimited access to adjacent Grand Palladium Hotels & Resorts). Guests can also access the TRS Yucatan Hotel website via complimentary resort-wide WiFi to request transport like TRS's version of Uber.
Helios Beach Club and Zentropia
The expansive Helios Beach Club pool is three tiers overlooking the Caribbean Sea, and offers not just lounge chairs and cabanas, but several distractions too. Aquafit and aquacycle classes alternate every day, while a shaded area offers a daily yoga class and afternoon fitness classes. Lunchtime options include poolside barbecue or paella from Gaia Pool Bar or an international buffet at Helios Restaurant; guests also get a dose of live music or DJs every afternoon.
A mobile concierge offers books, sunscreen, cold towels and sunglass lens cleaner and guests can head to other chill out zones such as the secluded La Terraza pool, Las Rocas salt water pool by the sea, the laid-back pool at Zentropia Spa or the TRS Beach Club with Bali beds and access to a swimmable beach.
TRS guests can access the hydrotherapy circuit at Zentropia, use the spacious gym, pool or participate in daily dance or Zumba classes. Zentropia Spa offers a wide range of treatments and includes Habits Healthy Bar, perfect for a post workout smoothie.
Restaurants and Bars
There are five restaurants on property including Capricho, Helios, La Boheme, El Gaucho and Tentazione. Guests with dietary needs, allergies or intolerances are given a dietary card upon check-in which can be shown to servers at any restaurant or bar.
There are five bars spread out through the property and the word of mouth every evening is always about CHIC Cabaret and Restaurant. Rated five stars and the number one attraction by TripAdvisor in the region, the sexy pre-show can be seen by any guest every night starting at 7:15 p.m, with dinner and the main performance beginning at 8:30 p.m.
Along with a lively combination of well-known pop songs from the past 50 years, and sexy dance performances, attendees also enjoy a multi-course tasting menu. TRS Yucatan guests can reserve complimentary tickets once during a week-long stay.
Hotel guests may also notice a discreet sign for Ixmucane, a cenote discovered during construction. Named for a Mayan goddess, TRS Yucatan can organize a shaman ceremony for a group to experience the historic connection of the indigenous residents to these underwater caves and any guest can go see the cenote during the day.
TRS Yucatan Hotel has won some 50 awards since its 2017 opening. Palladium Hotel Group now has four TRS hotels, including TRS Coral Hotel in Cancun and TRS Turquesa Hotel and TRS Cap Cana Hotel in the D.R. A fifth TRS Hotel in Ibiza, Spain is currently under construction.
Latest Travel & Selling Tips