Where travel agents earn, learn and save!
If sand, sea, and solitude are on your road trip wish list, this is the perfect itinerary for you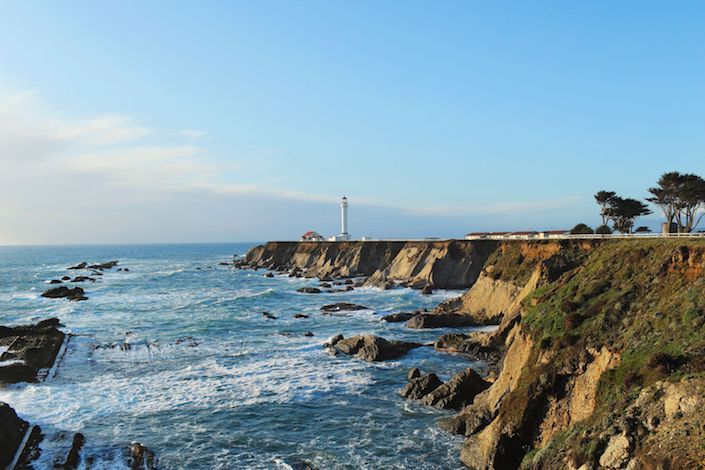 Photo: Jill Richards
Start: Trinidad
End: Wilder Ranch State Park
Duration: 3 - 5Days,11Stops,453Miles
Stop 1 | Trinidad
Trinidad is what happens when picture-perfect headlands collide with a teacup harbor dotted with wave-sculpted sea stacks. One of Northern California's prettiest villages, the seaside enclave makes a great base for exploring up and down the Redwood Coast or staying local and discovering under-the-radar beaches. Off Stagecoach Road, forested trails lace across the Elk Head bluffs, dropping down to secluded College Cove Beach. Sprawl on the sand and enjoy breathtaking views of tree-covered Pewetole Island and offshore sea stacks. At Sue-meg State Park (formerly Patrick's Point State Park), search for sea-polished agates and moonstones at Agate Beach, then climb to the top of Wedding Rock. Without leaving town, you can kayak around Trinidad Bay to see seabirds, seals, and tide pool creatures, or hike to the top of Trinidad Head to scan for whales. Afterward, refuel at the Lighthouse Grill with a mashed-potato waffle cone loaded with bacon and cheese. For the trip home, pack your car with smoked, line-caught seafood from Katy's Smokehouse.
Stop 2 | Ferndale
To drive over the Eel River into idyllic Ferndale feels like a trip through time; the quaint town embodies big charm. Streets are lined with intricately-painted Victorian homes complete with turrets and trim. In the 19th century, a booming dairy industry allowed prosperous farmers to build glorious estates known as "Butterfat Palaces." Visitors can be their own dairy queen (or king) for a day with a stay at the impossibly cute Gingerbread Mansion Inn. Don't miss the complimentary afternoon tea and wine service served in the rose-bush-filled English garden.
Stop 3 | Mattole River
On the northern end of California's remote Lost Coast, the King Range Conservation Area writes "coastal grandeur" in very large letters, with peaks soaring 4,000 feet above the sea. Get a taste of the region at Mattole River Beach, a narrow and winding drive from US 101. The river's sandy mouth is prime beachcombing terrain, with shifting dunes and a supply of driftwood that's perpetually replenished. Getting here is a commitment—it takes 90 minutes to drive the 40 miles from Ferndale—so consider spending the night at 14-site Mattole Campground. In the morning, hike south for 3.5 miles to the abandoned lighthouse at Punta Gorda, which warned ships away from this rocky coast from 1912 until 1951, when it was replaced by an offshore navigational beacon.
Stop 4 | Westport-Union Landing State Beach
Thirty miles north of Mendocino lies three-mile-long Westport Union-Landing State Beach, a largely deserted swath of sand backed by white-crested waves. The water is too rough and cold for swimming, but the beach is a fine place for capturing photos of the raw and romantic shoreline and ancient offshore rocks, or taking long walks searching for washed-up treasures. Make footprints on the sand all day, then set up your tent for the night. Three separate campgrounds line the bluffs overlooking the Pacific, all perfectly positioned for sunsets. In spring and summer, get up early to watch the surf fishermen hauling in spawning smelt. (If you're not into camping, book a room at Howard Creek Ranch Inn's oceanfront farmhouse, where you'll enjoy lavish breakfasts and glorious gardens.)
Stop 5 | Bowling Ball Beach
In sleepy Point Arena, rushing is frowned upon and savoring is celebrated. Its five-block-long main drag has an outstanding bakery—Franny's Cup and Saucer—and the art-filled supper club Bird Café, but the most alluring attraction is Bowling Ball Beach, 3.5 miles south of town. Check your tide table before you go. During very low or minus tides, walk north from Schooner Gulch State Beach (follow the blufftop trail or walk along the sand) less than a mile to see an astounding assemblage of round rocks, formed by millions of years of weathering. The oddly spherical "balls" are actually concretions—unusually well-cemented aggregates found in the sedimentary rocks that make up the cliffs. Over the eons, the softer surrounding rock has eroded away under the Pacific's constant onslaught, leaving the tougher "bowling balls" behind.
Stop 6 | Gualala
On the Sonoma County coast, you'll spy one beautiful beach after another—so many that it's hard to choose. For residents of Gualala, a local favorite is Cooks Beach, a pocket beach with crashing waves and playful seals and sea lions swimming in the surf. (The Fish Rock sea lion rookery is just north of here.) This dog-friendly beach has dependable "banana-belt" sunshine and is protected from the region's frequent coastal wind. To get there, head north of town and hike the Bonham Trail through wind-battered Bishop pines, then descend the stairsteps that lead down the bluffs. At low tide, look for tide-pool treasures and a small sea cave on the cove's south side. Just across the road, sleep deeply in one of St. Orres' Russian-style cottages, their architecture a tribute to the coast's fur-trading past.
Stop 7 | Kirby Cove
Just north of San Francisco lie the Marin Headlands, a spectacular tract of coastal land that is part of the Golden Gate National Recreation Area. Despite the proximity of the city, this is a wild and dramatic land with knife-edge cliffs and steep, chaparral-covered slopes. Drive meandering Conzelman Road to the trailhead for Kirby Cove, one of the best places to photograph the Golden Gate Bridge, San Francisco's beloved engineering marvel and iconic work of art. A one-mile hike leads to a spectacular cove where San Francisco's skyline dazzles and the marvelous bridge gleams, just waiting for you to snap and post. Plan far in advance to reserve a campsite (there are only five) and spend the night. While you're in the headlands, visit the Point Bonita Lighthouse, accessed via a suspension footbridge, or tour the Marine Mammal Center to see injured seals and sea lions being cared for and then returned to the wild.
Stop 8 | Cowell Ranch Beach
Cowell Ranch Access, Half Moon Bay
South of San Francisco lies the wild and rugged San Mateo coast, where dozens of beaches can be accessed only by walking. Wind-lashed headlands are crowned with grassy terraces, and sandstone cliffs drop abruptly to the ocean. Near downtown Half Moon Bay, a half-mile hike leads to the secluded cove at Cowell Ranch State Beach, a wildly beautiful meeting of land and sea. Admire the beach from above or hike down the stairs to build a few sandcastles. When you've had your fill of salty air, head over to Main Street in Half Moon Bay (aka the "Pumpkin Capital of the World") and take your pick between fish-and-chips at Flying Fish Grill and bangers and brews at Sacrilege Brewing.
Stop 9 | Wilder Ranch State Park
Miles of Brussels sprouts fields line both sides of the highway north of the vibrant city of Santa Cruz. Stop at Wilder Ranch State Park for a 1.2-mile seaside stroll along the coastal bluffs, passing crashing waves and diving seabirds. Follow the Old Landing Cove Trail to the Ohlone Bluffs Trail and Fern Grotto Beach, where a hidden, fern-draped cave is fed by an underground spring. Allow a little extra time to explore the park's historic buildings, which include an 1859 Greek Revival farmhouse, an 1897 Queen Anne Victorian, and several dairy barns and outbuildings. Mountain bikers find nirvana on Wilder Ranch's 35 miles of single-track and hilly ranch roads on the eastern side of Highway 1.
For more information, please visit visitcalifornia.com.
Latest Travel & Selling Tips