Where travel agents earn, learn and save!
This summer, explore the endless opportunities for unique dining experiences around Florida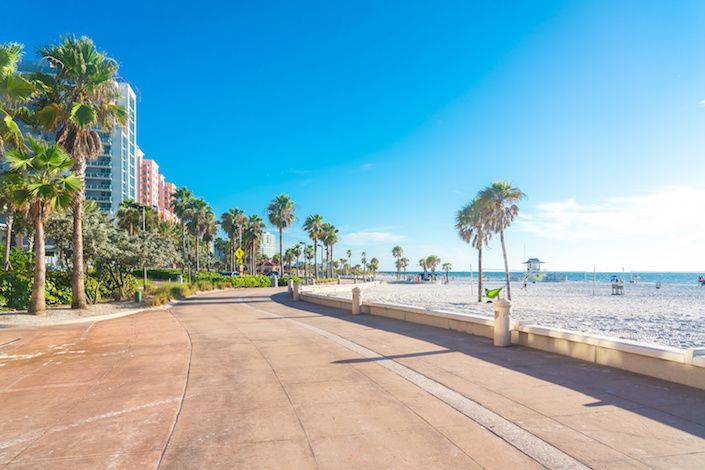 The Sunshine State has a dizzying array of places to eat and drink. This summer, explore the endless opportunities for unique dining experiences around the state.
Pensacola:
With more than 460 years of cultural influence, an abundance of fresh seafood and a lively history that can still be seen and felt today, Pensacola has no shortage of unique eateries for food enthusiasts to enjoy. Located in the heart of Historic Downtown Pensacola, Five Sisters Blues Café is a local trademark and a monument to the city's history in blues music. Serving delicious southern and soul food favorites, and previously welcoming guests like Ray Charles, Aretha Franklin and Ike and & Tina Turner, this establishment has taken on a life of its own. Unable to decide what will best fit your appetite? Travelers can embark on an adventure through Pensacola to five local establishments on the Seville Savories Food Tours, indulging in dishes that are both diverse and eclectic, just like the city itself. The tours walk through the history of America's first settlement via its food and cultural influences, with lunch and dinner tours available to book, as well as a designated local coffee tour.
Columbia County:
A quick and easy lunch stop after a day floating down the Ichetucknee River, Ichetucknee Springs General Store Grill is located conveniently in the Ichetucknee Springs State Park. Enjoy freshly prepared hot and cold menu selections, such as hamburgers, fries, sandwiches, wraps, crisp salads and hand-dipped ice cream as you dine outdoors at tree-shaded picnic tables located throughout the park, located just north of Gainesville and south of Lake City, features eight major crystal-clear springs, which join to make up the six-mile Ichetucknee River
Florida Sports Coast:
With all the adrenaline-pumping fun along Florida's Sports Coast, you'll no doubt need to refuel at some point. Try out some local, fresh-caught seafood at Whiskey Joe's Bar + Grill in New Port Richey. Accessible by land or water, this seafood hotspot serves up mouth watering Gulf grouper tacos, mango-glazed scallops and coconut rum chicken, also offering an always-fresh raw oyster bar.
Foodies with a love for brews and breweries can head to Zephyrhills Brewery Company. Offering more than 25 on-tap favorites like Hook Turn Pale Ale, Dr. Dipa's Cure-All IPA and Zepha Hefa Hefeweizen, each beer is brewed in small batch kettles to ensure the best quality. After partnering with the best food trucks on Florida's Sports Coast to deliver a wide array of scrumptious options and recently opening a free game room complete with darts, shuffleboard and video games, the Zephyrhills Brewery Company is perfect for food enthusiasts looking to make friends and family part of the experience.
Ocala/Marion County:
Ocala/Marion County offers unforgettable outdoor dining — whether under sun, shade or stars. Most restaurants in Historic Downtown Ocala make outdoor dining available. Some offer a street-side cafe setting whileothers feature big courtyards or covered areas. One of which is Mark's Prime Steakhouse, which overlooks Ocala's town square, complete with a lovely, covered section ideal for a fine al fresco meal. For a place on the Square that's livelier, O'Malley's Alley & Oyster Bar has an outdoor space in the back where you can enjoy oysters or a burger while listening to live music.
Believe it or not, Ocala/Marion County is home to some great beach bars. Lake Weir, in the southern part of the county, features two big beach bars with sandy white beaches like those found alongside Florida's coast. Founded in 1926, Gator Joe's Beach Bar & Grill boasts a Key West vibe while serving tasty island-inspired cuisine with a large section that juts out over the water for a beautiful view.
On the south side of the lake, you'll find Eaton's Beach Sandbar & Grill, a complex that includes a restaurant specializing in "Florisiana" cuisine; a more causal Steam Shack on the lower level; a boardwalk that takes you straight out to the lake; a dock; boat slips; and an ample beach area for relaxing and playing. The fun doesn't stop with your meal though — kayaks, paddle boards, paddle boats, jet skis and pontoon boats are available to rent pre- and post-meal!
Jacksonville:
Situated steps away from the stunning Atlantic Ocean, The Surf Deck Grille at Ponte Vedra Inn and Club is an upscale yet casual, offering foodies a full-service oceanfront dining venue with inimitable panoramic views and Florida coastal cuisine, pairing local and sustainable ingredients with sea breezes and top-quality service. Chef de Cuisine Erik Osol has curated an upscale yet laidback menu consisting of Mediterranean bites, refreshing cocktails and even a "Grommet" menu for the kids, a nod to the impressive surfing conditions at Ponte Vedra Beach. It's recommend starting with the datil honey butter shrimp followed by the delectable steak tips and truffle fries, all paired with the Green Mermaid, a signature cocktail. If you have room, indulge in the Key Lime Wege, infused with blueberry jam, and topped with whipped cream. After your meal, take a few steps down the stairs and your toes are in the cool beach sand, or turn the corner and relax in the oceanfront pool or hot tub. The Surf Deck Grille serves lunch and dinner daily and smart, casual wear is required.
Downtown Delray Beach:
On the east coast of South Florida, Delray Beach is a different kind of destination: an open-air, resort-like experience in a breathtaking setting surrounded by an abundance of eclectic dining experiences. Together with The Ray Hotel, Michelin-Starred chef Akira Back opened his first Florida namesake restaurant, Akira Back, in Delray Beach.
The Falcon House, a neighbourhood bar and restaurant serving global food and cocktails, was a 'Cheers-esque' staple for more than 10 years and a go-to for its food, cocktails and especially the people. The fare is a medley of street food from around the world and its drinks are curated by the renowned team of Sweetwater. The setting is sexy, swanky and always a good time. Revoking the local vibe of Delray past, busboys and billionaires - everyone is welcome.
Clay County:
From fresh, local seafood to international flavors, there's no shortage of unique dishes at local restaurants in Clay County. Allow the destination to help create a unique dining experience for you, perfect for stepping outside of the box and trying something new. Drawing on inspiration from his Korean heritage and travels around the globe, Chef Back has created a menu that blends modern Japanese cuisine with authentic Korean flavours.
Get ready for bold, Greek flavors at Fresh from Yianni's Kitchen in Fleming Island. Owner, Yiannis Demopoulos, prides himself in sharing the flavors of his parent's homeland, producing authentic, Mediterranean cuisine using recipes he learned from his grandmother. From made-to-order gyros, fresh Greek salads with the option to add-on grilled fish and, of course, there's spanakopita on the menu too. Other Greek items include: Moussaka served with Greek salad and pita sandwiches, shawarma and Avgolemono soup. Open for lunch and dinner, stop in for a meal filled with flavors.
When it comes to Florida delicacies, it doesn't get much more Floridian than eating alligator! At Whitey's Fish Camp along Swimming Pen Creek, diners can enjoy fresh seafood of all kinds with alligator tail served fried as an appetizer and also an entrée. And yes, it is true – it really does taste like chicken. For other adventurous items, try a platter of fried and raw oysters, whole catfish and even a traditional shrimp boil with corn, mushrooms, sausages and more. A local favorite since 1963, at Whitey's you can even arrive by boat! As you explore the dock area, be on the lookout for real alligators in the water below.
South Walton:
South Walton's sugar-white sand and turquoise water make an unbeatable backdrop for your meal. Whether it's for a date night, a casual family meal or drinks with friends, there are countless spots to celebrate with an incredible view of the beaches that make this such a special destination. At Vue on 30a, you're set high up on a dune overlooking the pristine beach, with nothing between you and the glorious spectacle of a water-meets-sky horizon line. At FOOW (Fish Out of Water) in Watercolor, you'll find great views, along with a southern twist on several made-from-scratch dishes.
If you're in the mood for some zesty fish tacos, a tropical cocktail and a panoramic Gulf view, Barefoot's Beachside Bar & Grill on the Hilton Sandestin Beach Golf Resort & Spa property has you covered! Open to the public daily, they serve Gulf views in a relaxed, resort environment. After a cocktail and a South Walton sunset, head downstairs for a more upscale dinner at Seagar's, the area's only AAA Four-Diamond steakhouse. Finally, on the rooftop of The Pearl Hotel, you'll find the Havana Beach Rooftop Lounge, an elegant oasis dedicated to living and drinking well. With a classic bar serving craft cocktails, beer and wine, you might imagine you're in another time and place.
St. Pete:
Sit back, relax and enjoy unparalleled views of the Tampa Bay at Pier Teaki, located atop of the St. Pete Pier. Opened in July 2020, the St. Pete Pier is the Southeast's largest waterfront playground comprising 26 acres of activated waterfront park located in St. Pete, Florida's vibrant downtown. Pier Teaki, famous for its views and delicious bar bites, including its fish tacos, pork potstickers and more, is the perfect stop at the St. Pete Pier. This modern tiki bar is the spot to be — from its refreshing house-made frozen cocktails like the Frozé to its tropical hand-crafted signature cocktail list — this rooftop lounge is the perfect place to end your evening on the St. Pete Pier.
Sebring:
Eat like a local when you visit Sebring's designated neighbourhood hangout: Faded Bistro & Beer Garden. Sit back and relax in their open-air dining area with signature cocktails and a cheese and charcuterie board. Founded on a commitment to bringing warm hospitality and seasonally fresh ingredients to the Sebring area, Faded Bistro has cultivated a one-of-a-kind restaurant that has become instantly iconic among residents. Time moves a bit slower here as patrons are encouraged to enjoy draft beers at their own pace under the dim glow of string lights.
Any local will tell you that Cowpoke's Watering Hole is more than a restaurant; it's an experience. Visitors and regulars alike will spend hours underneath the tiki or in their indoor dining area enjoying classic cuisines like fresh seafood and tender steaks, or expanding their horizons with adventurous dishes like fried gator and frog legs. In addition to a unique dining experience, Cowpoke's hosts weekly events, such as karaoke, trivia nights and more so you can make memories with friends or bond with new people in an exciting environment.
Tampa:
HHyde Park Village is the place for discerning shoppers and diners, looking for the very best in retail, dining and entertainment. Located within Tampa's most historic district and spanning six-city blocks, Hyde Park Village is a lifestyle center unlike any other in the region, blending historical and modern architecture and European-inspired detail.
Hyde Park Village has 15 (soon to be 16) culinary destinations to choose from, 10 of which are locally-owned. The options are endless between Goody Goody, specializing in burgers, fries and pies, Timpano, known for its rustic Italian menu, On Swann, a renowned hot spot for its contemporary American dining and Meat Market, an ultra-chic, modern steakhouse. Additionally, there is Odd Fellows Ice Cream Co., with 38 wacky, chef-driven ice cream flavors, as well as Sprinkles, known for introducing the world's first cupcake ATM, and The Hyppo, complete with 450 flavors of all-natural ice pops.
The Sunshine State offers visitors an assortment of unparalleled culinary options. To learn more and plan your next trip, visit VISITFLORIDA.com.
Latest Travel & Selling Tips