Where travel agents earn, learn and save!
Secluded, action-packed, or classic—there's a California beach for every mood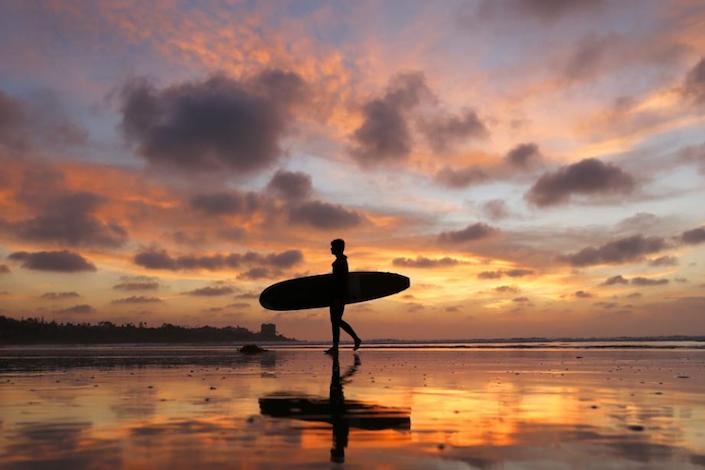 Photo: ZUMA Press, Inc. / Alamy Stock
Play a game of word association with "California" and it's almost certain that "beach" will be blurted out immediately. These 11 incredible Golden State stretches of sand will make it clear why. Outdoor travel writer Ann Marie Brown, author of 14 guidebooks and hundreds of articles about California's spectacular parks and public lands, shares what makes each one special, whether a sleepy, under-the-radar gem or a famous spot habituated by celebrities (and those who love them).
1. La Jolla Shores
Lather up the SPF 50 and rent some gear on this mile-long crescent of sand, then try out a new sea-salty sport. Kayakers cruise out to La Jolla's sea caves. Boogie boarders and stand-up paddlers ply the gentle surf. Snorkelers spot California spiny lobsters, sheep crabs, and leopard sharks. Wear yourself out during daylight, then stick around for a twilight beach bonfire. Your fellow beachgoers? They won't just be tourists—see why a La Jolla local lists this particular sandy stretch as his go-to, and get tips on what else to do while in the area.
Photo: Tanveer Badal
2. Crystal Cove State Park
Remember that Bette Midler movie, Beaches? It was filmed here on three miles of silky sand dotted with charming 1940s-vintage cottages (to score one, book a year in advance). Surfers and skim-boarders tackle the reef break while landlubbers enjoy beach walks and searching for sea stars. At day's end, stroll to the Beachcomber Café for clam chowder at sunset, then rent a firepit and roast gooey s'mores as darkness falls. (more)
3. Butterfly Beach
Check your compass—in the American Riviera, aka Santa Barbara, the coastline faces Mexico, not Hawaii. But Butterfly Beach is one of the few with a west-ish orientation, so you can watch that fiery orange ball dip into the Pacific. Visit this popular dog-walking beach near the Four Seasons Biltmore during low tides, when you and Rover can log 10,000 steps strolling to Santa Barbara's East Beach or Montecito's Hammonds Beach. Plan your visit to Butterfly around the museums, boutiques, restaurants, and the historic mission of Santa Barbara.
4. Carmel City Beach
In the postcard-pretty village of Carmel, a curving white-sand beach lies at the foot of storybook cottages and manicured gardens. Aquamarine Carmel Bay's protected cove hosts an annual sandcastle-building contest, featuring not just castles but also sea turtles, mermaids, dragons, horses, and more. When the crowds thin out, long-billed curlews work the intertidal zone and squadrons of pelicans fly in V-formations inches above the waves. (more)
Photo: Westend 61 / Getty Images
5. College Cove
Trinidad is what happens when picture-perfect headlands collide with sandy beaches and wave-sculpted sea stacks. A one-mile trail tunnels through conifers cloaking the Elk Head bluffs, then winds down to this secluded North Coast beach. Pack a picnic and savor views of Pewetole Island, a rock outcrop straight out of a fairy tale. Or, if you've got a few days to spare and a travel itch, head out on this Hidden Beaches road trip.
6. Manchester State Park Beach
The dunes at Manchester State Park Beach back a driftwood-laden swath of sand, ideal for meditative walks and searching for washed-up treasures along the five-mile-long shoreline. When night falls, pitch your tent at the park's campground and doze off to a lullaby of waves. (more)

7. Sunset State Beach
Your wave is waiting for you at this rural beach south of Santa Cruz. Fog-free weather and an unspoiled sweep of coastline offer ideal surfing and beach-walking conditions. Scan the sea for whales and dolphins, warm your toes at a bonfire as the sun sinks over Monterey Bay, or spend the night in a tent just a short walk from the waterline.
8. Stinson Beach
Sun-drenched Stinson is where San Franciscans go to escape the summer fog. Kids with sand buckets and longboard surfers crowd the lines at the burrito stand while lifeguards keep watch over the white-crested waves. Seals dive, cormorants cruise, and unplugged joys prevail—like kite flying, paddle ball, Frisbee, and novel reading. Another reason folks visit Stinson? It's a stop on one of the best hikes out of San Francisco.
9. Point Dume State Beach
Malibu's broad, pearly beaches stretch along 25 coastal miles, so it's tough to pick a favorite strand. But Point Dume, a promontory that forms the northern boundary of Santa Monica Bay, delivers much more than just surfing and swimming. Top-roped climbers scale the seaside cliffs, migrating gray whales parade past the point, and a blufftop preserve offers unforgettable views of the Malibu coast and Catalina Island. After savoring those sights, go explore the quintessentially Southern Californian beach town (and celebrity stomping ground) of Malibu.
10. Cayucos State Beach
No place does "laidback beach town" better than Cayucos. The six-mile-long beach north of Morro Bay celebrates the slow life with mellow pleasures like basking in the sun, kayaking near the shore, or watching joyful retrievers race into the shallows to retrieve tennis balls. Kiss your stress good-bye as you strip off your shoes and walk barefoot on cool sand, or join the twilight-hour romantics strolling the 1872 Cayucos Pier.
11. San Buenaventura State Beach
This Ventura beach fits everybody's definition of endless summer. Spike a volleyball or toss a Frisbee on two miles of curving sand. Pedal the paved coastal bikeway or log a few laps on California's oldest and longest wooden pier (1,958 feet). Hungry? Shuck some bivalves at The Jolly Oyster Shuck Shack. Looking for a reason to extend your visit? Consider a trip to Channel Islands National Park—Ventura is a gateway to the five-island archipelago.
The safety of both visitors and residents is a top priority in the Golden State. Before traveling, familiarize yourself with local guidelines and regulations for all of the destinations you plan to visit. We also encourage everyone to check out Visit California's Responsible Travel Hub as well as the latest Travel Updates.
Latest Travel & Selling Tips