Where travel agents earn, learn and save!
Make memories at some of California's family-favorite beaches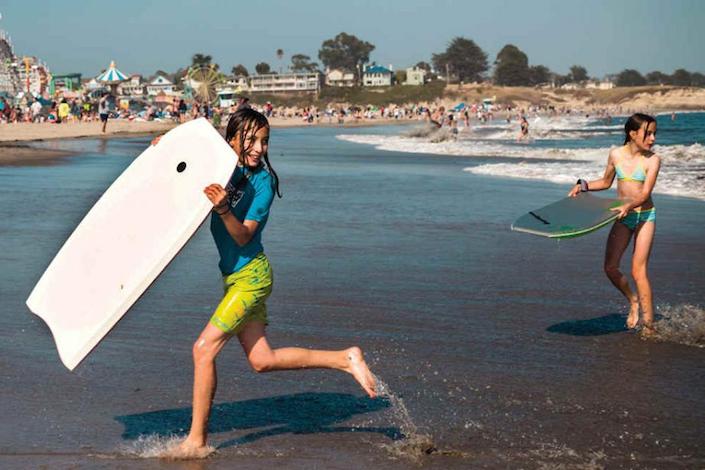 Photo: Tai Power Seeff
Sand, water, and kids—it's a natural combination for easy family fun. This sandy collection offers appealing, family-friendly features, such as calm water for new swimmers, tide pools for intrepid explorers, picnic grounds for family gatherings, wetlands alive with birds and butterflies, and, in some cases, concessions for full-day sustenance. Many of these beaches are state parks—be sure to check hours and seasonal facility openings before heading out.
1. Heart's Desire Beach, Point Reyes National Seashore
This hidden sandy cove on the eastern side of Point Reyes National Seashore faces calm and protected Tomales Bay and the rolling hills of Marin County. Kids love the trek down through the forest, the freshwater, seasonal stream running into the bay, and the long sandy shore. Parents love the lack of waves and gentle slope into the water. (More: Heart's Desire Beach)
2. Carmel Beach, Carmel-by-the-Sea
With its sugary sand and idyllic setting—edged by wind-carved cypress trees and bluffs—this roughly 1-mile-long crescent is a great place to relax and play. Kids love to splash in the usually tame breakers, but Carmel Beach isn't just a paradise for people; this is a canine fun zone too. The dog-friendly beach finds owners tossing tennis balls and romping with their furry pals. (More: Carmel Beach)
3. Crystal Cove State Park, Laguna Beach
Lying on both sides of coastal Highway 1, Crystal Cove State Park offers access to an idyllic beach and chaparral-clad coastal hills of Laguna Beach. Search for anemones, sea stars, and hermit crabs among the tide-exposed reef of Crystal Cove State Marine Conservation Area, or head inland and upland on foot or mountain bike to explore trails winding into lush Moro Canyon, which turns lavishly green after winter rains, then ascend to the grassy summit of Moro Ridge to survey the coast. (More: Crystal Cove State Park in Laguna Beach)
4. Natural Bridges State Beach, Santa Cruz
With its signature natural bridge standing just offshore capped by dozens of flapping and squawking pelicans and cormorants, this waterfront parkland in Santa Cruz makes a lively and beautiful destination. Add tide pools filled with colorful sea anemones, sea stars, hermit crabs, and other fascinating finds and you've got a junior naturalist's delight. (More: Natural Bridges State Beach)
5. Arroyo Burro Beach, Santa Barbara
The special kid-friendly appeal of this beach goes beyond the picturesque setting in Santa Barbara. Besides the safe swimming, beginner-friendly surfing, and chance to cast a line, there are trails to explore and a Watershed Resource Center with educational programs that highlight the importance of protecting California's beaches and shoreline. (More: Arroyo Burro Beach)
6. Crissy Field, San Francisco
At Crissy Field in San Francisco, outdoor playtime never stops. Joggers and cyclists cruise along the water's edge of San Francisco Bay. Dog owners fling tennis balls into the bay, and retrievers fetch. Kids play tag and turn cartwheels on grassy lawns or tug on colorful kites flying in the Golden Gate winds. Kiteboarders and windsurfers take off from the beach to catch that same relentless breeze, and expert surfers ride the waves underneath the Golden Gate Bridge at adjacent Fort Point. (More: Crissy Field)
7. Coronado Beach, Coronado
Like an island getaway a stone's throw from the city, the appealing island community of Coronado feels like a private enclave wrapped with perfect beaches, including ultra-family-friendly Coronado Beach. Reached by the arching Coronado Bridge from downtown San Diego, it's easy to explore by bike and is known both for its water sports and for being especially dog-friendly. Rent sets of wheels from Holland's Bicycles to pedal past elegant oceanfront mansions and tended gardens, or visit Orange Avenue, lined with shops (including ice cream and candy purveyors for the kids), restaurants, and galleries, and theaters. (More: Coronado)
8. Silver Strand State Beach, San Diego
Silver Strand's got it all: the great wide blue and pounding surf of the Pacific on one side, and a sweet curve of sand around warmer, calm waters on the other. And in between, plenty of run-around room, a chance to try surfing, or build a bonfire on the beach with your family. Kids love splashing around on Silver Strand's calm San Diego Bay side, known as Crown Cove. On the Pacific side, Coronado Surfing Academy gives lessons on the how to hang-ten on usually friendly breakers. (More: Silver Strand State Beach)
9. La Jolla Shores, San Diego
Located about 20 minutes north of downtown (and technically part of San Diego), La Jolla is home to the wide, white-sand beaches of La Jolla Shores, with surfing, snorkeling, and made-for-s'mores firepits, as well as an adjacent playground for kids. Paddle or snorkel (rentals available) among La Jolla's marine denizens, from colorful garibaldi to (harmless) leopard sharks. To see more aquatic critters while on land, explore the Birch Aquarium, or stand along the sea wall at a beach known as The Children's Pool, and watch a large community of seals lounge, bark, and tend to their cubs. (More: La Jolla)
10. Santa Monica Beach, Santa Monica
Take a stroll along Santa Monica's signature pier at sunset, and you'll probably wonder if it can get much better than this. But wait; it can. First, there's an amusement park—perched right on the pier—called Pacific Park, with not-too-scary roller coasters and classic carnie rides that make a nice mix even for little ones. Then there are those simple pleasures—a creamy thick shake, a simple necklace of seashells—at snack shacks and trinket shops lining the pier. Visit the inviting Heal the Bay Aquarium (the former Santa Monica Pier Aquarium), with some 100 species of fish and aquatic animals, before hitting the main attraction: the beach, a broad expanse of pale yellow sand lining the coast for 3.5 miles. (More: Santa Monica Pier & Beach)
Latest Travel & Selling Tips